After testing 19 other nose hair trimmers we can say without a doubt that the Panasonic ER-GN30-K is the best on the market.
The name definitely isn't catchy. I would have called it the Panasonic Awesome Snip. If Panasonic's branding department is reading this, you can use that.
Yep, my main gripe about this The ER-GN30-K is it's name. So as you can imagine, I highly recommend this nose hair trimmer. Let's take a closer look at just what makes it so great:

Panasonic ER-GN 30-K
Unboxing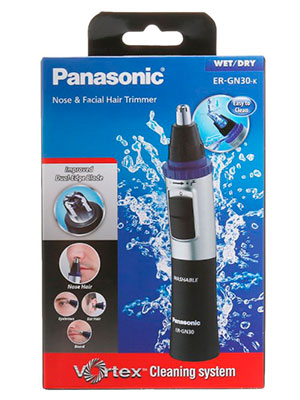 The Panasonic ER-GN30-K had the bulkiest box out of all the nose hair trimmers we examined. Oddly, they are also the only brand to use cardboard packaging, with every other brand choosing to use plastic.
I actually prefer cardboard packaging myself, not only is it much easier to open, but also much easier to recycle.
I have not even opened the box yet and Panasonic are off to a good start.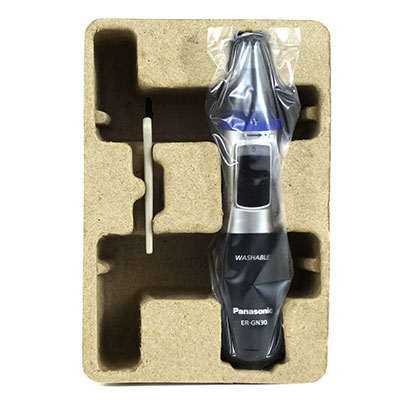 Upon opening up the box you will realize why all the other brands choose to use plastic over cardboard. The nose hair trimmer is presented much nicer in plastic packaging.
As you can see from above, this is hardly something you would share with your friends on Instagram. Not that you would ever share photos of your nose hair trimmers on social media… But still, it's definitely ugly.
But as far as packaging goes, it keeps the nose hair trimmer secure and protected. They even wrap the nose hair trimmer in a plastic bag to prevent it from getting scratched. Ugly but functional.
Once you remove the packaging you are left with these two items:
The nose hair trimmer and a cleaning brush.
The brush is very useful for flicking away hair and snotty bits (it happens) when cleaning the trimmer after a hot and heavy nose hair removal session.
Let's take a closer look at it: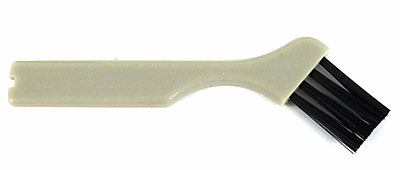 While it may not look like much, this is actually one of the better nose hair brushes on the market.
Some brand's are cheapskates and don't include a brush at all (looking at you WAHL and Conair) while others include a brush that is so small that you can barely grip it properly.
Trust me on this, when cleaning time rolls around you will be incredibly thankful for the included brush.
A nice touch is that the nose hair trimmer comes with a protective cap. A simple pull and it comes right off: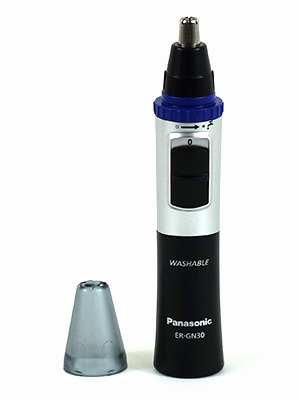 Now it amazes me that most nose hair trimmers don't include a protective cap.
Why is a cap important?
Because you are going to be sticking this thing inside your nose and ears!
I don't know about you but I don't want dust and grime building up on the head between uses. A protective cap stops all this gunk from coming into contact with the blade, keeping it hygienic for the next time you use it.
Panasonic has decided to include small vents in the top of the cap.
While these vents allow the trimmer head to dry even with the cap on, they are not good news for everyone:
What if you want to take your nose hair trimmer with you on the go?
Unfortunately throwing this nose hair trimmer in the bottom of your bag reveals the shortcoming of the vents, dust and grit easily found it's way on to the head of the trimmer.
Sorry ladies, if you are looking for a handbag compatible nose hair trimmer then you are better of going with Panasonics female friendly model.
I store my nose hair trimmer in a drawer, so the cap provided more than enough protection for my purpose. While this feature/flaw is hardly a deal-breaker for me, it just might be for those of you looking for a nose hair trimmer to use while traveling.
While you have not been able to see it so far, this nose hair trimmer comes with a unique bend to it's body.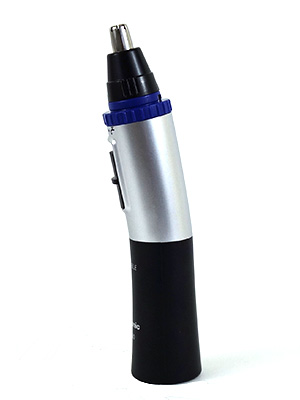 The bend actually makes the nose hair trimmer feel incredibly nice to hold. Like a banana!
Having a nose hair trimmer that is easy to hold is something that is easy to take for granted and often overlooked. It was only obvious to us because we tested 19 other nose hair trimmers, and this blew them out of the water.
Despite the odd shape, the nose hair trimmer stands up on it's own just fine and is surprisingly sturdy. A welcome change since many trimmers we tested could not stand upright on their own, instead having to be stored on their side.
As you would expect from a nose hair trimmer the blade cover can be removed completely, allowing you easy access to clean the blade itself.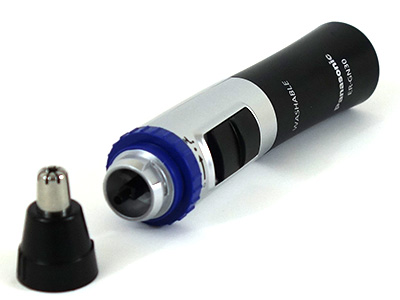 The blade sits loose inside the cover and is shaped a little different to the blade you will find on most nose hair trimmers:
The ER-GN30-K uses a dual edged blade. Unlike regular nose hair trimmer blades that cut along the vertical edge Panasonics blade also cuts along the top edge as well.
If reading that sentence made you go "huh?" then this diagram will make it easier to understand:
What this means for you is that this nose hair trimmer is much less likely to miss any hairs and that's definitely a good thing, as you can see In the following video:
Trust me, there is nothing more annoying than trying to tilt your nose hair trimmer at various angles only to find that your trimmer keeps missing the hair.
With a twist and a pull (in that order) the bottom of the ER-GN30-K slides
right off, revealing a battery compartment underneath:

The nose hair trimmer power button slides up and down to turn on and off. Easy enough to turn on one handed yet difficult enough to actually set the nose trimmer off at the bottom of your bag (making it sound like you are carrying around a vibrator).
Bonus: The body on this nose hair trimmer is completely sealed. You know what that means?
Yep, this baby is waterproof!
Being water proof not only makes the nose hair trimmer super easy to clean but also allows you to trim your nose hairs in the shower (or if you have no shame, in the swimming pool or at the beach).
Don't like water? The ER-GN30-K works just as well on dry land for the rest of you landlubbers.
Now that you know exactly what you get in the box it's time to take a look at how the ER-GN30-K holds up when used.
The cut
While trimming nose and ear hairs is in no way a pleasurable experience, the ER-GN30-K makes it a quick and painless task. Slides neatly into your nose or ear without nicking your skin and makes short work of your hairy bits.
This nose hair trimmer worked particularly well under the nook of the tip of the nose, a common problem area for nose hair trimmers. The dual edged blades definitely seemed to help.
I must have a sensitive nose because many trimmers I tested tickled my nose while I trimmed. The ER-GN30-K was one of the few trimmers tested that did not give me a tingling sensation.
While this is a great nose hair trimmer, Panasonic does stretch the truth a little.
Panasonic claims that this trimmer is suitable for your beard, eyebrows and other facial hair. If you are buying the trimmer to groom these bits then you are bound for disappointment.
The trimmer just isn't all that great when it comes to thick patches of hair on the surface of your face. While it will slay that stray monster hair on your face just fine, where the trimmer really shines is your ear and nose.
Like with all other nose hair trimmers, the cut is heavily effected by build up on the blade. If you skip a cleaning session and hairs and other gunk coat the blade then you will notice that the trimmer will have a hard time slicing through the hairs.
Keep the trimmer clean for one mean hair removing session. Speaking of clean:
Cleaning
As you would expect, being waterproof makes Panasonic's nose hair trimmer darn easy to clean, since it can be completely dunked under water. This means that most of the time you will not have to remove the blade cover to clean the trimmer. A quick rinse is all that is needed and that's a huge time saver.
But where this nose hair trimmer really shines is it's vortex cleaning system.
Just above the on/off button you will notice a small diagram: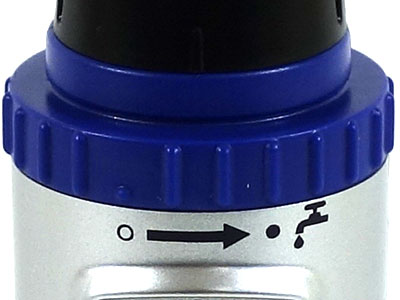 When the time comes to clean this nose hair trimmer, twisting the collar to the right, as the diagram indicates opens up a small slot at the rear of the trimmer:
With this slot open you can now use what Panasonic calls it's Vortex Cleaning System.
After a hot and trimming session Simply turn the power on and hold the head of the nose hair trimmer under warm running water. The spinning blade draws in water and flushes it out the slot at the rear for hands off cleaning done in seconds..
Still confused? Here is a diagram:
Water goes in one end and out the other. No scrubbing needed.
For the most part this system works incredibly well, particularly if you are trimming your nose hairs in the shower.
The only time we had difficulty with using this method to clean the nose hair trimmer was when we forgot to clean the trimmer immediately after using it. If you allow cut hairs or snotty bits to harden on the blade then you will have to take the trimmer apart to clean it.
Fortunately the included cleaning brush makes short work of anything coating the blade, and after a quick rinse you can have the nose hair trimmer cleaned in 5 minutes
Noise
You can't really avoid it, all electric nose hair trimmers have that annoying buzzing sound coming from the motor. Unless you choose a battery free nose hair trimmer it's just something that you will have to put up with.
Fortunately the buzz from the ER-GN30-K is fairly low pitched, if the sound from electric shavers don't annoy you then this definitely won't.
Size
Measurements:
Length: 1"
Width (widest point): 1"
Height: 5.5"
Weight: 3 oz
The smooth surfaces made me worried that the trimmer would constantly be slipping through my fingers in the shower. After a couple of wet uses my worries were put to rest, this nose hair trimmer is very easy to grip, even when dripping wet.
While it's not something you are going to slide in your back pocket, the nose hair trimmer is thin yet comfortable to hold.
Battery

Panasonic claims the ER-GN30-K lasts over up to 90 minutes on a single AA alkaline battery. We found that this number was in fact closer to 80 minutes. Whether we used lithium or Alkaline AA batteries, the 90 minute operation time just would not come.
If you are only using this trimmer for your ears and nose then each session trimming session shouldn't take more than 2 minutes. That's still 40 trims. Unless your nose hair grows freakishly fast, you will see a year out before you need to swap the battery out.
If you are still unimpressed with this number, swap the alkaline battery for a lithium. We got 4 hours of use out of a single battery. Even if your nose hairs look like the amazon jungle, this will be enough charge to last you a year.
Durability
We tested the ER-GN30-K roughly over two weeks, taking it through 4 batteries, playing with it in the shower and under water, deliberately dropping it to the ground on more than one occasion.
The ER-GN30-K Works as well today as when we first bought it. While researching up on the nose hair trimmer we found that a few users reported that their nose hair trimmers stopped working after a couple of uses. We were unable to replicate this issue. We felt that this was worth mentioning as it was something we were looking out for during our use of the trimmer.
Panasonic has a Limited Warranty covering parts and labor for two years, so they seem to be confident in their product. Unfortunately accidental damage is not covered by this warranty. Still impressive though.
Over all the ER-GN30-K is was rugged enough to stand up to some tough love throughout our testing period, not something that all nose hair trimmers were capable of (looking at you, Wahl 5640-600 , you useless piece of junk).
You can even order replacement parts direct from Panasonic (USA and Puerto Rico residents only) in the way of protective cap, blade block and battery cover. Although with how cheap this nose hair trimmer is you are by far better off simply repurchasing a whole unit as the cost of replacement parts and postage would work out to be about the same.
Conclusion
This was hands down the best nose hair trimmer out of all 19 tested. For the price, we could not justify choosing anything else. The only real complaint brought up by our panel is that it was the not the most female-friendly looking thing but let's face it, a nose hair trimmer is kept hidden from friends and family at all costs. You don't want anyone to know about your nose hair problem!
Easy to clean, easy to use, this nose hair trimmer just checks so many boxes. For the vast majority of you , this will be the perfect trimmer for your ear and nose hairs. Highly recommended.
Read also: Panasonic ER430K Nose Hair Trimmer Review