Believe it or not, nose hair trimmers are found in many peoples bathrooms. You probably would never have guessed because you only see the end result: A person 100% free from ear and nose hair, which is actually a testament as to just how well they work.
So do not worry, it's not just you that suffers from long nose hair.
While nose hair trimmers are cheap, you can pick a good one up for less than $20, they are in no way equal. In fact, we noticed quality differed dramatically from different models from the same manufacturer!
Fortunately for you, we have done the hard so that you don't have to. We tested 19 different trimmers to help you choose the right nose hair trimmer for you.
19 nose hair trimmers… Are you serious?
We most certainly are. Check them out in all there nose hair trimming glory:
We spent over 30 hours testing these bad boys and are confident of our recommendations.
Okay, enough waffling on, it's time to take a closer look at the winners and losers of the nose hair trimmer world.
Best Nose Hair Trimmers Reviews
Out of all the nose hair trimmers tested, we consider the following to be the best. We would like to point out that no nose hair trimmer is perfect. Electric nose hair trimmers are designed to be cheap but useful products that are thrown away at the end of their useful life. As a result the quality of nose hair trimmers is not on par with what you would find in other products.
You can click through to read our reviews on each recommendation which will take you through the unboxing as well as how each nose hair trimmer held up to our bushy nose holes.
Comparison Chart

Panasonic ER-GN25-K – Best All-round Nose Hair Trimmer
We all have that friend that is just all round great at everything he tries. My friend is called Greg, and I am incredibly jealous of this skill. If Greg was a nose hair trimmer he would definitely be the Panasonic ER-GN30-K.
While not Panasonic's only attempt at making a nose hair trimmer, it is by far their best. A clear winner, beating out many fuller featured trimmers.
If you this is your first time using a nose hair trimmer then you will be pleased with just how simple it is to use. The trimmer is incredibly easy to clean, comfortable to hold and the dual edge blades left behind the least amount of hairs with each pass. And for the price it is surprisingly high quality.
For you bushy nosed veterans who have been trimming your nose growth for years then you will wonder why you didn't make the switch sooner, this is definitely worth upgrading your older model for.
While it's looks won't appeal to everyone, it does one job and it does it well – slash away those ugly nose hairs. Read our detailed review of the ER-GN30-K.
Panasonic ER-GN25VP – Best Nose Hair Trimmer for Ladies
Now you might be thinking:
But women don't get nose hair…
Trust me on this, women get nose hair. I remember as a young boy sitting on Aunt Judy's lap as she told me a story. I still have nightmares about her nose hairs swaying as she breathed in and out, just inches above my head… **shudder**.
If only Aunt Judy had used this nose hair trimmer; I would not be having these horrible Vietnam-like flashbacks. Turns out that women are just better at grooming their nose hairs before they are long enough to poke out below the nose line.
Panasonic have also snagged top spot for female friendly nose hair trimmer. While the build quality isn't quite up to par with the ER-GN30-K above, it still has a lot going for it and is one of the only nose hair trimmers on the market targeted at women
The design is perfect for hiding away at the bottom of your handbag and could easily be fooled with a bottle of mascara. Great for keeping your nose hair problem on the down low.
On the cutting front, the dual edge blades slice away at nose hairs with little effort. All this without any nicks or cuts to the skin.
It is definitely worth mentioning there is not a big range to choose from when tracking down a nose hair trimmer designed just for ladies. To be brutally honest, most of the other "lady nose hair trimmers" were down right crap.
While it isn't perfect, the ER-GN25VP will do the job just fine for most women. To read up about the quirks of this trimmer, check out our detailed review.
Groom Mate Platinum XL – Best Non-electric Nose Hair Trimmer
Now you doomsday preppers reading along will be shaking your head at the nose hair trimmers reliance on disposable batteries. That's no good for when the end of civilization as we know it finally hits us.
Fortunately, there are a few mechanical nose hair trimmers on the market that are powered by nothing else but your hand. The star of which is the Groom Mate Platinum XL.
The build quality on this nose hair trimmer is absolutely gorgeous, and is built to last a lifetime. Holding the device in your hand it feels like a premium product, more so than any other nose hair trimmer on the market.
There is a learning curve that must be overcome before you can effectively use this trimmer. However, this is common to all manual nose hair trimmers and once mastered rewards you with effective noise free trimming.
But by far the best thing about the Groom Mate Platinum XL is the size. Barely bigger than a AA battery, this is a necessary addition to any toiletry bag when travelling. This is one heck of a portable nose hair trimmer. Be sure to read our detailed review on the Groom Mate Platinum XL.
These nose hair trimmers came close to being the best but were let down by a few flaws. While they will still cut your hair, they simply did not compare to the nose hair trimmers listed above.
Wahl 5546-200 – Runner Up
I really wanted to like this trimmer, it looks incredibly pretty and I have a lot of respect for Wahl as a company (I personally own and use a lot of their other products)
Wahl had all the best intentions with this trimmer, unfortunatel,y it works better on paper than in practice.
While the included light sounds great, it was much more of a gimmick and despite claims of being "wet/dry" the battery compartment filled up with water when held used in the shower. You can read our detailed review here.
The losers (what to avoid)
For every great product one the market, there are many more wannabes. While some nose hair trimmers only just came up short from taking position of best nose hair trimmer, others downright suck.
While we understand that nose hair trimmers are cheap devices to purchase, we still believe that they should perform their basic functions at least adequately. Unfortunately, One brand in particular seemed to disagree with this reasoning.
Which brand?
Drum roll…
Remington
To be fair, the race to the bottom was neck and neck between Conair (which we also don't recommend) and Remington. In what was a photo finish, Remington takes cake for some really poor design choices.
Now this might surprise you. It definitely surprised us. Remington actually makes some darn good grooming products.
But when it came to nose hair trimmers. Every single trimmer tested had glaring flaws to the point that simply cannot recommend them.
Every. Single. One.
Let's take a look a closer look at what we didn't like:
Remington NE3250
The NE-3250 is an entirely waterproof nose hair trimmer that is designed to be used in the shower. Rather than have a flat base, it has a loop so that you can hang the trimmer from your shower caddy.
So far so good. But this trimmer hides a serious design flaw that is very difficult to avoid.
The base of this nose hair trimmer twists into one of three positions. Power on (vertical line), power off (circle) and if you twist the base to the right of these two symbols, the base pops off completely – allowing you to replace the battery.
Do you see the problem with this set up?
When turning the trimmer off it is very easy to twist past "off" and disconnect cover. If this happens the nose hair trimmer is no longer waterproof and water can flow freely through it.
Since this nose hair trimmer is marketed and "designed" to be used in the shower, this is a recipe for a broken nose hair trimmer.
During our testing we ruined two NE-3250 nose hair trimmers through this flaw. Two separate testers broke the same trimmer in the exact same way – by flooding it.
When we contacted Remington customer service we were told that this would be classified as accidental damage and not be covered by warranty, even though the design of the nose hair trimmer encourages this to happen naturally.
Many user reviews state that this trimmer stopped working for them after just a few weeks, but after using it ourselves we suspect it is very likely they got moisture inside because of this glaring flaw.
Oh, and this is Remington's best attempt at a nose hair trimmer. It gets worse…
Remington NE3150 Nose Brow & Ear Trimmer
The NE3150 suffers from the same design flaw as the model above, twisting the base too far when switching it off the trimmer causes the battery cover to pop off.
Then there is the head. The NE3150 has an incredibly narrow area that hair must fall for it to be snipped off. When testing we required many, MANY passes before we were satisfied the trimmer had cut everything.
The head can also leave you with a nasty nick if you are not careful, particularly when cutting close to the walls of your nose. The trimmer cut me personally and I am holding back from typing out the words I yelled out when this happened.
But this still is not Remingtons worse nose hair trimmer. That award goes to:
Remington MPT3400C
While the idea of a dual cutting head appealed to us the product was let down by poor design and cheap materials.
For it's size, the motor is remarkably noisy. Loud to the point that after trimming ear hairs it will leave your ears ringing.
Then there is the trimmer blade. While it worked okay on thin blonde hairs (the ones you cant really see anyway) anything thicker was caught and pulled. Using this trimmer was very painful experience.
But here's the thing, while the motor may not have been strong enough to cut through coarse hair, it was strong enough to vibrate the head of the trimmer off.
This happened about 15 seconds into each time we used the nose hair trimmer. While the head could easily be popped back into place, it was only matter of time before it jumped out again.
At the time of writing this guide, Remington only had three nose hair trimmers on the market. This guide will be continually updated.
In the future Remington may not make the worst nose hair trimmers and if that day arrives we will modify this section to let you know. But for now their nose hair trimmers suck and you would do well to avoid them.
What if I disagree with your results
Like we said, these are the best nose hair trimmers for most people. If you find that our recommended nose hair trimmers are not suitable for your own situation then we highly encourage you keep looking.
But don't worry, we won't leave you high and dry!
If you want to find your perfect t nose hair trimmer then read on to learn everything you need to know about comparing one nose hair trimmer to another.
We proudly present:
The complete nose hair trimmer buyers guide
Why you need a nose hair trimmer
Hair is a funny thing. Just how attractive not only depends on gender, but also where it grows. For this example lets assume you are a man:
Those tussled locks dangling from your chin?
Rugged, manly and desirable
That thick birds nest that sticks out of your ears and nose?
Not so much
The face is the first thing that people look at and any unsightly hair that is sticking out of your nose will immediately be noticed.
This forest simply has to go. There is absolutely no way to make nose hair look fashionable. In my head fashionable nose hair would look something like this:
Disgusting, right?
Your nose forest simply has to go.
While we are on the subject of hair that shouldn't be there; the same can be said for those blonde/white hairs that stick out of your ears. Just because they are fine you may think that no one else can see them.
Well you are wrong. People are just being polite and not pointing out your ear jungle.
They actually look like this:
Not only do long hairs in these places look horrible, they can be down right frustrating.
Do you get tickles in your nose that no matter how much you sniff and scratch, simply wont go away?
Chances are it's a long nose hair brushing against the inside of your nostril with every single breath
Things you could do to groom your unwanted bushy growth:
Cut them with scissors – Fiddly, time consuming and potentially dangerous
Rip them out with tweezers – Bring on the pain
Nose wax – Even more painful than tweezers, and messier too.
Sniff a lighter – Nah, that's just plain silly.
Or you could do it the easy way and simply shave those suckers off.
An electric trimmer is by far the quickest and easiest way to give those annoying ear and nose hairs the trimming they need
And the best part? It's painless.
Although they can trim both ear and nose hairs, electric trimmers designed to be used in such a way are simply called nose hair trimmers.
So what is a nose hair trimmer?
Think of a nose hair trimmer as an electric shaver, just for your ears and nose. The head of a the trimmer is designed to be crammed into ti spaces (ears and nostril) without tearing these sensitive areas to shreds.
The cut
The number one complaint with nose hair trimmers is:
My trimmer does not shave close enough and leaves stubble
This all comes down to using the right tool for the right job.
A nose hair trimmer is a trimmer not a shaver. As a result, it trims your hair, rather than shaveit off completely.
You wouldn't use a fork to eat soup, would you?
Well the same goes for using a nose hair trimmer to shave. It's sole purpose in life is to shorten those pesky hairs that peek out from under your nose and ears.
And trimming them to a stubble does the job just fine since the remainder of the stubble is hidden by your nose . But if you were to use a nose hair trimmer on your face, this would be the result:
Manufacturers are mostly to blame for the unrealistic expectation that a nose hair trimmer should shave hair completely. The vast majority of the nose hair trimmers we reviewed all claimed they could be used on your mustache, beard, eyebrows and other hairy patches.
But it really is the wrong tool to use for these troublesome areas.
Why?
Trimming hair to a stubble on the outside of your face will remain surprisingly visible (unless you have incredibly fine blonde hairs). Even If it is only 1/64" of stubble, passersby will still be able to see that unibrow as clearly as if you hadn't used a nose hair trimmer on it at all.
So if you are looking for something to remove hair completely, this product definitely is not for you. If you are looking for the best solution for cutting those long strands of nose or ear hair then read on.
Trimmer Head
There are three different trimming heads commonly found on nose hair trimmers. While they all trim hair, one is definitely a cut above the rest. Let's take a closer look at them!
1. Rotary Trimmer
There is a reason why rotary trimmer heads are so popular, they are by far the best head for sliding inside your ear and nose, making short work of any hair that comes near.
Rotary nose hair trimmers are essentially two razorblades stuck vertically to plastic pillar that spins rapidly. The blade will look similar to this:
To protect your skin from being slashed and gashed, a protective metal dome is placed over the spinning blade. A pattern of slots will be cut in the top of the dome will to allow nose hair through to be snipped away.
Unfortunately, not all rotary trimmer heads are created equal. Lets compare two:
The trimmer head on the left (Panasonic ER-GN30-K) is an example of what a good rotary head should look like, the one on the right (Wahl Ear Nose & Brow) is what you should avoid.
While it is difficult to tell from the picture, the Panasonic head is considerably smaller. This makes the trimmer much easy to maneuver around the tight space that is your nose or ear canal.
You will also notice that the slots in the head are very different. This is even more apparent when the two are viewed from above.
As you can see, the Wahl trimmer head is open topped. While this design allows your nose hairs to easily come into contact with the blade, it also does the same for skin.
Open topped rotary trimmers are blood thirsty things, requiring cutting at a limited angle and a steady hand. Coupled with the larger size of the head and you are just asking to slit the inside of your nose.
Bloggers we spoke to reported that this design worked better for those with thick or coarse nose hair. After discussing the topic among the testers, we all agreed that this simply wasn't the case.
The other style of rotary trimmer (like that of the ER-GN30-K) has a guard that partially covers the top of the blade:
As you can see, the blades are covered, there is no chance you are going to give yourself a painful nick with this head. Despite the blade being partially covered the smaller size allowed you to angle the nose hair trimmer, catching nose hairs that stick close to the wall of your nose.
Many marketing teams will try and convince you that rotary nose hair trimmers are also excellent at detailing eyebrows, mustaches and beards. This is a half truth and while a rotary trimmer can get the job done, the results are average at best.
The bottom line: While rotary blades are clearly the best head to use on an ear and nose hair trimmer, the quality varies dramatically from brand to brand. Choose a smaller sized head with a closed top will allow you to easily remove difficult hairs without pain.
2. Foil Guard Trimmer
The most modern of nose hair trimmer heads is the foil guard. To put is super simply, a foil guard is a piece of metal with a pattern of notches in it. Underneath the guard is a blade that vibrates rapidly back and forth. If any of your hairs lines up with these notches it will be sliced right off by the blade underneath.
The main purpose of the guard is to protect your delicate skin from any nicks and cuts. And they do an amazing job of it. Foil guards are so safe you could lick them if you wanted to. But be warned, a metallic taste will follow.
While a foil guard may be super safe, in our tests it just couldn't compete with the cutting effectiveness of the rotary trimmer. The shaver really struggled on longer curlier hairs, particularly on the ears (some of the testers have really let themselves go).
Another downside is that the blade of the trimmer is located a little way down the head, meaning that you have to stick the trimmer further into your ear or nose than you would a rotary trimmer to cut the same piece of hair. As someone who is incredibly ticklish in their nose, I did not enjoy this one bit.
The only type of hairs that the foil guard seemed to cut flawlessly were shorter hairs. While this may be just fine for beard and brow touchups it just does not work as well for the ears and nose.
We found ourselves constantly going over the same area trying to slay that single monster hair that was giving us so much grief. Swapping over to a rotary trimmer saw the missed hairs trimmed in a single pass.
As of writing this guide, the only big brand nose hair trimmer (that we can even slightly recommend) is the Phillips 3000 Series and 5000 Series. While Philips refers to their trimming heads as "ProtecTube Technology" this is just fancy talk for foil guard.
The Bottom Line: If you are looking for a trimmer just for your ears and nose then stick with the rotary head we mentioned before. you want a "do it all" solution for your ears, nose, beard and brow then a foil guard will be the best compromise.
Finally there is one trimming head that should be avoided at all costs on a nose hair trimmer:
3. Side action trimmer
A side action nose hair trimmer is little more than a steel guard and a blade that moves side to side incredibly fast, slicing anything that comes near. It is essentially a much smaller version of your beard trimmer.
Side action trimmers just were not designed to be poked into tight holes like your nose and ear. They work best when moved at an angle across your skin (which again is why you will commonly find side action cutters on beard trimmers).
Whoever thought it would be call this a nose hair trimmer head has a sick sense of humor. Not only does the small blade miss a lot of nose hairs, but positioning it to close to the side of your nose or ear will see you end up missing skin as a reward for your efforts..
Use this trimmer head for eyebrow touch ups and beard and mustache detailing Instead.
Fortunately, side action trimmers are only found on a select few models of nose hair trimmers; including:
Most Conair Nose and Ear Trimmer Models
Remington ND3150CDN
The bottom line:
This trimmer head should be named the butcher, because it carves up your insides. Unless pain gives you pleasure, side action heads should be avoided at all costs on a nose hair trimmer.
Batteries
A commonly overlooked feature when comparing nose hair trimmers is the battery it takes.
While most electric nose hair trimmers are powered by AA or AAA batteries, there are some that are powered by unusual sizes. In our research we came across nose hair trimmers powered by 1/2AA, AAAA and even C sized batteries.
The major downfall of these less common batteries is that they can be a huge chore to track down when your nose hair trimmer suddenly runs flat. Many local convenience stores simply do not keep them in stock.
The best part about choosing a nose hair trimmer that runs on ordinary batteries? You can hijack the batteries from your TV remote if your nose hair trimmer suddenly dies.
Important: As the battery of your nose hair trimmer starts to die the trimmer head will not cut at the same speed and may end up pulling on your nose hairs. Fortunately this is easily fixed with the swapping over of a new battery.
The bottom line: Choosing a nose hair trimmer that either runs on AA or AAA batteries will make your life that much simpler when they run flat.
Or maybe you want a nose hair trimmer that does not use batteries at all:
Manual Nose Hair Trimmers
Want groomed nose hair but hate buying batteries? Maybe a manual nose trimmer is what you are looking for.
They don't run on solar, wind or love. They are instead mechanically operated by your hand.
There are two common styles of manual nose hair trimmer available. The first one is operated by squeezing motion and can be operated with just one hand:
Pinching and releasing this nose hair trimmer causes the blade inside to spin back and forth, trimming any nose hairs that slide between the holes in the guard.
A popular pinch style manual nose hair trimmer is the Muzitao.
The second style of manual trimmer is made up of two separate pieces of stainless steel held together by a single screw. Using the trimmer requires both of your hands:
Twisting the base of this nose hair trimmer with one hand causes the cylinder and blade inside to rotate, hacking away any hairs that come close.
A popular pinch style manual nose hair trimmer is the Groom Mate.
So which style is better? While some of you will not be able to go past the being able to use a nose trimmer with just one hand, we found that manual nose hair trimmers with less pieces not only worked better but also lasted longer.
Manual nose hair trimmer shave a few advantages over their electric cousins:
Very portable due to their small size.
No need to replace batteries.
Much quieter, trim nose hairs in stealth.
With proper care can last a life time.
But, there are two distinct disadvantages to manual nose hair trimmers:
More maintenance: In addition to cleaning, you will also have to lubricate the manual trimmer every so often in order to keep it operating smoothly. A blob of multi-purpose oil is all it takes.
More work than an electric trimmer: An electric nose hair trimmer does all the work for you with it's rapidly spinning blade. A manual nose hair trimmers blade only turns as fast as you twist or squeeze it.
Important – When buying a manual nose hair trimmer, avoid anything that is not made from stainless steel. Stainless steel is durable and incredibly resistant to rust and corrosion. This includes plastic.
The bottom line: While they require more maintenance and take longer to trim nose hairs, mechanical nose hair trimmers are a great battery free option to pack when traveling.
Comfort
If you have made it this far, you will have noticed that nose hair trimmers come in all different shapes.
Shape plays a more important role in your nose hair trimmer than you may initially think. It contributes to just how easy your nose hair trimmer is to grip and maneveur.
Out of all the trimmers tested, we came to the conclusion that round nose hair trimmers are by far the most comfortable to hold in the hand. Fortunately, just about all manufacturers seem to agree, and there are only a few nose trimmers available that choose a square design.
To put it simply: square sucks. While square nose hair trimmers may look stylish, we found these nose hair trimmers incredibly awkward to grip and made trimming nose hairs a particularly haphazard task.
It is worth mentioning that while discreet, the long and thin pencil shaped nose hair trimmers were not very comfortable to hold, particularly in larger hands.
Size
If you are like me, then you will only trim your nose hairs in the comfort of your own home. Because of this, I don't care how big and bulky the nose hair trimmer is, as long as it is comfortable to hold and cuts my bushy bits.
But perhaps you will prefer a nose hair trimmer that is a bit more compact; easy to stuff in a toiletry bag without taking up too much room.
There is a BIG size difference between the smallest and largest nose hair trimmer. Size plays a bigger role in user experience than you may initially think.
Before buying, be sure to think about how and where you plan to use your nose hair trimmer.
Attatchments
Many brands of nose hair trimmers will try and woo you with different attachments. These attachments allow you to use your nose hair trimmer to groom other hairy bits of your body at price that seems too good to be true.
Nose hair trimmers with multiple attachments are sometimes referred to as 3-in-1's because they perform three functions – trim, shave and detail.
In addition to the nose hair trimming head, common attachments of a 3-in-1 include:
Eyebrow guides
Shaver head
Beard trimmer head
If you have heard the saying:
Jack of all trades, master of none
Then you will understand the problem with this approach. While it may seem like a great idea to buy a nose hair trimmer that "does it all" it just does not work well in practice.
In an effort to offer more for less, sacrifices must be made. Unfortunately the quality of each individual head is much worse than if you were to buy a nose hair trimmer, beard trimmer and shaver separately.
Unsurprisingly, in our testing, we found that 3-in-1 nose hair trimmers provided a worse overall user experience than trimmers that were just designed for the ears and nose.
The bottom line: If you want a nose hair trimmer, buy a nose hair trimmer. Extra attachments are a marketing gimmick.
Cleaning
Cleaning your trimmer is something that should be done after you have clipped your hairs. The sooner the better as it does not take long for hair and gunk to stick hard to the blade. Trust me on this, you want anything that is sliding up your nose or in your ear canal to be as hygienic as possible.
If you don't clean your trimmer, the next time you use it you will notice that the blades are duller due to the build up.
Because cleaning is a necessary step to using a nose hair trimmer (more than once, anyway) it makes sense to choose one that is easy to clean.
Our favorite nose hair trimmer has a cleaning system where water flows through the top of the blade and out the side. It makes it incredibly easy to wash.
Same goes for any water proof nose hair trimmer. Being able to wash the whole trimmer under running water without taking it apart was a huge time saver.
We were less enthusiastic about cleaning nose hair trimmers that were not waterproof. For these models you will have to remove the head and wash the cover and blade separately:
As you can imagine, this proved to be quite fiddly and often resulted in parts falling to the floor. It was a very frustrating experience.
Some nose hair trimmers come with a cleaning brush. These brushes come in all different shapes and sizes.
Cleaning brushes pretty much rock at removing caked on build up from nose hair trimmers.
Soak the razor head for 10 minutes in warm water. Afterwards, sweep at the build up with your cleaning brush until it lifts from the trimmer. Wash under running water and your trimmer head will be good as new.
If you have your heart set on a nose hair trimmer that does not come with a cleaning brush, an old toothbrush will perform a similar job.
Noise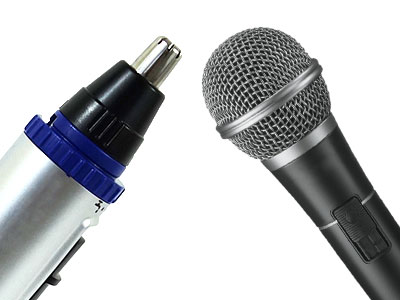 Lets get straight to the point: electric nose hair trimmers are noisy. That little motor inside hums and buzzes away as soon as you hit the power button.
Each and every one of you will have a different tolerance for noise. For instance – I for one think my mother-in-laws voice sounds like nails on a chalk-board but my wife just doesn't hear it.
The general agreement amongst testers was that while electric nose hair trimmers are not loud enough to wake someone from their sleep (unless it's their hair you are trimming), it definitely means that discreet nose hair trimming will be near impossible, that buzz will definitely draw attention.
So what does it sound like?
The noise can best be compared to the sound of a beard trimmer or an electric shaver.
Not the most pleasant of sounds but definitely far from irritating.
Oh, and one more thing we have to mention: Be careful if a nose hair trimmer goes off while at the bottom of your bag. It sounds like a vibrator. You will surely receive questionable looks from strangers within earshot.
If you want a nose hair trimmer without the noise, stick with the manual variety. These things are so quiet that you could slay your nose hairs in a crowded stall and people around you would be none the wiser.
Waterproof
One of our testers, James, is a little bit odd. He likes to do everything in the shower. In addition to the obvious like scrub, shampoo and conditioner he also does the following:
Clip his nails
Brush his teeth
Shave his beard
Singing and winning imaginary arguments!
When we told him he could also trim his nose hairs in the shower he jumped at the opportunity.
If you are anything like James then a waterproof nose hair trimmer is a must have. While all manual nose hair trimmers are waterproof, the same cannot be said of the electric variety.
Important: Do not assume your electric nose hair trimmer is water proof. If you do not see the words "waterproof" or "wet/dry" on the packaging then using the trimmer underwater will break it.
Being waterproof is a huge advantage when cleaning time rolls around. Rather than take your nose hair trimmer apart and wash the head and blade (which can be fiddly), you can scrub the whole thing under water. Hooray!
The agreement among testers (especially James) was that waterproof is a almost necessary feature. Even if you are not going to use it in the shower, it makes cleaning a washing your nose hair trimmer a whole lot easier.
Plus, the bathroom is a hot and steamy environment, with so much water everywhere, why take the risk?
Packaging
You know we are approaching the end of this guide when we are talking about packaging.
The only time you will care abut the box the nose hair trimmer comes in is when you are buying one as a gift (there's no better way to hint to someone that they have a nose hair problem).
Out of everything we tested, Wahl trimmers looked the least worst. Nose hair trimmers are not marketed as a premium item and their packaging definitely reflect this.
How To Use a Nose Hair Trimmer
With your chosen nose trimmer in hand, it's time to learn how to use it to your advantage. Fortunately, most ear and nose trimmer models are easy to use, even for beginners. Here are a few key steps you'll want to follow to make the most of your new nose and ear hair trimmer.
Before You Get Started
Preparation is one of the most important things to note when preparing to use hair clippers Walmart and nose hair trimmers. There are three main things you'll want within reach:
Towel: A towel is best to have for cleaning and to protect your countertop from flyaway hairs.
Extra light: Being able to see up into your nostrils with exceptional brightness can help ensure you get all of your longest hairs.
Magnifying mirror: A magnifying mirror can also be quite beneficial to help you target hard-to-reach and hard-to-see areas.
Using an Electric Nose Trimmer
There's no doubt that one of the best hair trimmers you can choose is the electric model. More than anything, they help you manage your nose hair with less effort and less time. Also, they can be helpful as a nose and ear hair trimmer in one.
Let's review the easy-to-follow steps to help you manage a mens nose trimmer so that you can perfectly groom your face.
Step 1: Wash Your Nose
The first thing you'll want to do is make sure you thoroughly cleanse your nostrils before cutting your long nose hair. Using lukewarm water, wash away as much mucus and dust as possible to have a clean-cut surface. Without clean nostrils, the cutting head can get clogged, causing you to miss long nose hairs.
Use your towel to dry off once you've cleared your nostrils of any dirt and oil. The drier your hair is, the easier it will be for the ear and nose trimmer to get rid of thick hair.
Step 2: Turn the Trimmer On
Now, it's time for you to turn on your nose ear trimmer and bring it close to your nostril. You'll want to gently insert it into the entrance, moving from the outer rim of your nostril to the interior. Depending on the nose hair clippers Walmart you've chosen, this could tickle, so be wary of sneezing.
Continue moving the hair shavers from back to front, listening to the hair buzzer sound that signals it is cutting. The more patience you have during this process can make even the world's cheapest trimmer work perfectly.
Step 3: Clean Up
As the final step of learning how to cut nose hair with electric trimmers, it's time to clean up. Using lukewarm water, rewash the inside of your nose, drying it with a towel afterward. Inspect your work to ensure you've gotten to all the hard-to-reach areas inside.
You'll also want to make sure you take the time to clean your ear and nose hair trimmer. Some models are waterproof, allowing you to run water over them to get rid of excess hair. Others will need to be disassembled.
Using a Manual Nose Trimmer
Fortunately, the steps you'd use to use an electric ear nose trimmer are similar to manual models. Let's dive into how you can easily remove white nose hairs with a manual trimmer.
Step 1: Clean Your Nose
You'll want to check that both of your nostrils are free and clear of dust and mucus. Use warm water and a soft washcloth to rinse and dry the inside of your nose.
Step 2: Cutting Your Nose Hair
It's important that you first review the specific instructions for your manual trimmer. With most models, simply bring the blade near your nostril opening. From there, carefully rotate the blade in a circular motion, cutting hairs back and forth.
Step 3: Clean Up
Just as you would with electric trimmers, rinse both nostrils with water after you've finished cutting. Also, dry with a towel to eliminate any tricky hairs trapped in your nostrils.
How we chose which best nose hair trimmer to review
I would love to say that we just walked into our local Walmart and bought every nose hair trimmer on the shelf but the selection process was actually a little more complicated than that.
Not only did we speak with our testers (many of which already used nose hair trimmers) but we also reached out to communities on Reddit as a few bloggers in the male grooming industry.
Unsurprisingly, we got a huge variation in recommendations on which nose hair trimmers we should test and review.
So we thought:
Stuff it, let's just test them all!
Let's be honest, as far as products go, nose hair trimmers are fairly cheap and jumping up to 19 (we originally intended to test 10) did not strain the wallet too much.
Products we avoided:
If you have made it this far, you may have noticed that we skipped over two particularly popular brands. And we have good reason for this:
1. Mangroomer
We are disappointed that our nose hair trimmer from Mangroomer was dead on arrival.
We ran out to our local Target to buy a replacement but had the exact same problem, we could not get the darn thing to turn on, even with swapping out the batteries and resorting to more primitive techniques like hitting it.
While some people may say:
Third times a charm
The whole experience had already left a sour taste in our mouth. Since we had already wasted enough time on the darn thing we excluded it from our review.
2. Toiletree, Creation Springs and other relabeled brands
While these may be well known brands, they all have one thing in common:
The same manufacturer in China.
Seriously, check it out:
They all look fairly similar, right?
This practice is known as private labeling and is incredibly common on market places like Amazon and eBay. The company takes an existing product, whacks their brand name on it and promotes it on online marketplaces.
While these nose hair trimmers might be okay to use in their own right it still left us with a problem:
how do you choose which brand to review if they are all the same product?
Since it would be unfair to promote (or criticize) one brand over another, we skipped over these and other private labeled nose hair trimmers.
Conclusion
If you are still with us then you have made it through the most comprehensive guide available on nose hairs.
Armed with this knowledge you will definitely be able to choose the perfect nose hair trimmer for you. No more excuses for bushy nose or ear hair.
See you all next time!
FAQs
Is it safe to use a nose trimmer?
Nose trimmers are typically battery-operated and use a blade to cut the hairs inside your nostrils. This grooming device is the safest and most convenient option for most people. Moreover, nose trimmers don't cause pain, even if you have long or thick nostril hairs.
Usually, blades don't shave down to the skin. However, it is important to note that using a nose trimmer may not be safe for everyone, especially those with allergies or other issues with their sinuses. So, it is best to consult your doctor before using one if you have any concerns. Thus, ensure to use nose trimmers correctly and avoid cutting your nostril hairs too short or too often.
How do I choose a nose hair trimmer?
Choosing the right nose hair trimmer is not as simple as it sounds. There are many factors to consider before buying one, such as the type of nose hair trimmer, features, and price. The type of nose hair trimmer is a major factor to consider while purchasing. Generally, there are two types of nose hair trimmers: electric and manual. Electric ones are more expensive but offer more control and precision than manual ones. Manual versions are cheaper, but they are more time-consuming than electric ones.
Features can also play a big role in buying decisions, as not all nose hair trimmers have the same features. For example, some include attachments that can be used for other parts of your body, while others have attachments that make them waterproof which is great for people who want to use them in their shower or bathtub. Some even come with built-in lights to help you see inside the nose while trimming. Thus, you can choose your ideal nose trimmer according to your specific requirements.
Does a nose trimmer permanently remove hair?
No, a nose trimmer doesn't permanently remove hair, as it only cuts the hair at the surface level. The method also requires some maintenance, trimming the hair every six to eight weeks. Nose trimmers are a painless and safe solution to remove hair from the nose. They are also useful for trimming sideburns, beards, mustaches, and other facial hair. Although these grooming devices effectively remove hair, the results are short-lived, as trimming doesn't remove hair from the roots. Hence, you can expect your nose hair to grow back more quickly, sometimes within a day or two.