Over the past four months we gathered a panel of 20 testers to try out over 60 different nail clippers. The testers had one simple goal: To find the best nail clippers.
Our testers not only clipped their way through their own finger and toe nails but also an abundance of plastic cards (similar to your credit card) to not only test alignment but blade sharpness and durability. There was huge variation performance between the different types of the best nail clippers.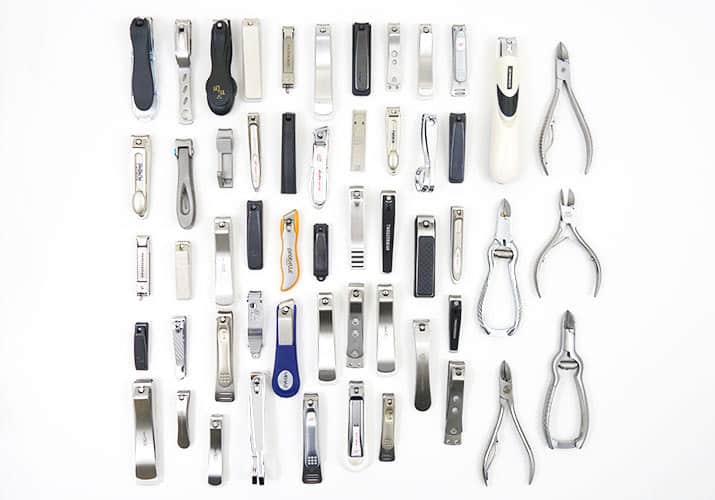 We were incredibly harsh with how we tested. We figured such a basic tool has no right to be anything else other than perfect.
During testing something surprised us. Something we were not expecting. We learned that there is no single best nail clippers for everyone. Those of you with thick manly toenails are going to need a different nail clipper to someone with thin nails. Likewise those of you who clip exclusively at home will have different needs to someone who spends most of their time travelling.
So to account for this we broke nail clippers down into categories, and awarded a winner in each.
Before we continue we would like to mention that very few high-end best nail clippers feature a built in nail-file. Part of the reason for this may be that steel nail files are incredibly aggressive. Many beauticians agree that metal nail files are capable of causing damage to natural finger nails and are better suited to acrylic nails.
Because of this we consider a nail file an unnecessary feature on nail clippers. If you want a nail file to go with your nail clippers then we recommend purchasing a separate emery board. Cheap and efficient, it's all you really need.
Comparison Chart
Best Fingernail Clippers
Fingernail clippers are small mouthed nail clippers suited to small to average sized fingernails. They have a curved jaw and are the smallest type of nail clipper you will come across.
If you have petite hands with small fingers then fingernail clippers will be your best choice. The smaller sized blades will allow you to accurately cut your fingers while minimizing jagged edges.
Fingernail clippers are also a good option for those with petite feet since small toe nails can be quite difficult to cut with large nail clippers.
Note: If you have larger than normal finger nails or big man-hands then you might be better off using a Large Nail Clipper.
Seki Edge SS-106 – Best all round fingernail clipper
Small, sharp and easy to hold. The Seki Edge impressed us from the moment we took it out of the packet. The blades are sharp, aligned and were the perfect example of why you should pay more for a good quality nail clipper.
Despite the small size, the flared end of the handle made the clippers surprisingly easy to grip.
The tensioning of the lever was smooth to perfection and actually made clipping fingernails an enjoyable experience. Highly recommended.
Seki Edge Satin Slim SS-109 – Best fingernail clipper for precision
If you are looking for nail clippers with a smaller head then it doesn't get better than the Satin Slim. The blades measure just under 3/8" edge to edge; smaller than the 7/16" blade found on our top pick. The smaller size allowed for a precise cut on tiny fingernails.
The blades are sharp and the long slender handle allowed us to get great leverage with very little effort. Combine the two together and you have a clipper that effortlessly slices through finger nails.
Even though the nail clippers come with a built in metal nail catcher, we do not recommended it. The small gap at the rear allowed smaller clippings to fall out. Fortunately the catcher can be permanently removed by bending at it with a small screwdriver.
The Seki Edge Satin Slim also comes in a flat bladed option; the SS-108, for those of you who cut your fingernails square.
Also Good
Feather Parada Small – The blades effortlessly cut any fingernail that slid inside. A steel nail catcher and nail file round out the clippers. The tensioning on the lever might have been looser than we would have liked but this all comes down to personal preference. Highly recommended.
Green Bell Small Nail Clipper G-1006 – Green Bell is the same mob responsible for the Seki Edge nail clippers; hence the similar looks. Interestingly the Green Bell nail clippers have a slightly different jaw. Even so, performance was identical to the SS-106, which is definitely not a bad thing. These did not make our best pick since they are much more difficult to track down than the Seki Edge.
Mehaz 660 – Sharp blades with a plastic nail catcher, the sturdy lever was easy to grip. The mouth was slightly smaller than other finger nail clippers we tested making them more suitable for small fingers with small nails. The Mehaz 660 are identical to the Kai 003 S. Kai manufactures the 660 for Mehaz.
Finger Nail Clippers to Avoid
The following finger nail clippers fell short in one way or another.
Clyppi Fingernail Clipper – We found that these nail clippers were overpriced for the quality offered. The blades of the nail clippers would not close flush.
Concord/KIYA Nail Clipper Large – KIYA and Concord nail clippers are identical. The only difference is that Concord comes with a leather nail catcher which makes them much more expensive, even though the plastic nail catcher on the KIYA was more functional. While the black plating looked gorgeous we noticed that it quickly wore on the edges of the clipper, revealing the copper colored metal beneath.
Concord/KIYA Nail Clipper Large – The nail clipper was one of the smallest we tested. At under 2" it is somewhat difficult to grip and required too much pressure to close the jaws. ?
EZ Grip Nail Clipper Small – Nail clippers that you hold like scissors sound like a great idea. Unfortunately the quality is exceptionally poor considering the premium price charged. The nickel plating began to peel during our testing and the exposed area soon began to rust.
KlipPro Jr. Nail Clipper – Don't be fooled by the name, these nail clippers are not for kids. The Jr. Is simply the smaller style of the nail clippers offered by Klip Pro. The lever would swivel left and right as pressure was applied. The thick blades also made it difficult to get under the nail for a close cut.
Haperton Klipit Fingernail Clipper – While the Klipit cut well enough the thicker jaws made it difficult to get right under the nail making it difficult to achieve the closest possible cut. Otherwise these are a great little nail clipper for the price.
Three Swords Basic Line – Sharp nail clippers at a budget price. However the nail clippers were quite stiff making them awkward to use.
MoxyCut – Made from a zinc alloy, the finish on the blades was poor in comparison to other finger nail trimmers we tested. We also noticed that the blades did not close flush and left a jagged edge to nails.
Muji Silver Nail Clipper – The nail catcher obstructs the jaws when cutting the corners of your nails. The lever was stiffer to operate than out other picks and the finish is nickel-plate rather than stainless steel. We noticed signs of rust before the testing period was out despite not coming into direct contact with water.
No-Mes Nail Clipper – The only nail clippers we tested that were made in the USA. The clippers live up to their promise of capturing nail clippings. Unfortunately the blades are so thick that it is impossible to get a precise cut. Come on America, you can do better than this!
Probelle Fingernail Clippers – An attractive design with poor materials. The blades noticibly dulled over the course of testing and the fingernail catcher was difficult to remove.
Revlon Nail Clip – Revlon nail clippers are little more than overpriced drug-store clippers. A cheap nickel-plated finish chipped easily and the blades were poorly aligned.
Sally Hansen Clean Cut Classic – While older Sally Hansen nail cutters were a favorite among the staff, the newer models blades are duller and prevent you from obtaining enough leverage to cut the nail.
Seki Edge Baby Nail Clipper SS-100 – Too large and sharp for an infant, these are better suited to an adult with small finger nails however their small size made them somewhat difficult to use.
Seki Edge Deluxe Fingernail Clipper SS-101 – Despite having the same quality blades as our top pick, the redsigned handle was not responsive and the nail catcher caught as many clippings as it dropped. While the nail catcher can be removed the body of the Seki Edge Deluxe is roughly a third smaller than our top picks and more difficult to grip
Topinox Small Stainless Steel Nail Cipper – Manufactured by Niegeloh in Solingen, you will also see these same nail clippers appear under different brand names such as Dovo, Finox etc. They all appear to be the same nail clipper from the same manufacturer. While they appear to be of exceptional quality the blades had an unusual bend which made them less suitable for fingernails. They could potentially be used as small toenail clippers.
Tweezerman Stainless Steel Fingernail Clipper – Despite coming from a popular brand name the nail clippers failed to impress. The blades do not line up perfectly dulled quickly. The only good thing these nail clippers had going for them is that the blades had the widest gap out of all the fingernail clippers we tested. Cold comfort given their poor performance. The lever had too much give and would move left or right as you applied pressure. The lever also flexed too much when you tried to cut thicker nails, preventing you from gaining proper leverage.
Zwilling J.A Henckles Fingernail Clipper – Given the klout that this brandname has we were hugely disappointed in the quality of these fingernail clippers. Overpriced and underperforms. While the blades are sharp, they left jagged edges on the nails.
Large Best Nail Clippers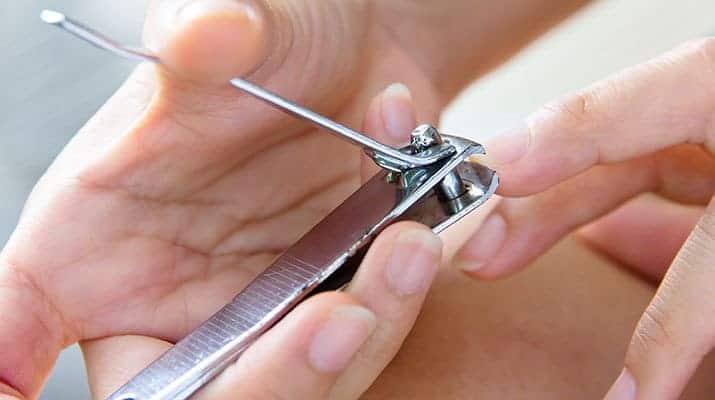 Large nail clippers can be used on both your finger and toenails. These large best nail clippers will immediately appeal to those of you who only want to invest in a single pair of clippers.
Like the smaller sized fingernail clipeprs, large clippers feature a curved blade. They are much more suited to those of you with thicker fingernails. Those of you with larger hands will also find the larger sized nail clippers easier to grip.
Just remember that large nail clippers are a compromise. While they can satisfactorily trim both your finger and toe nails you will likely achieve better results using the right tool for the right job. If you are particular with how your nails are presented to the world then you would be better served by purchasing a separate pair of finger and toe nail clippers.
It is worth mentioning that if you are prone to ingrown toenails then you are better off using a dedicated pair of straight edged toenail clippers. Curved nail clippers round the edges of your toenails, leaving space for the nail to painfully grow under your skin.
Also, if you are prone to fungus and bacteria you will definitely want to invest in a separate nail clipper just for your toes. After all, you don't want to spread it to your fingernails.
Feather Parada M Nail Clippers – Large size best nail clippers
Out of all the nail clippers we tested these were the most universally loved. So much so that numerous staff and testers asked if they could keep the ones we ordered in for testing.
The blades are a fine example of Japanese steel workmanship. Not only are they sharp and perfectly aligned but leave a smooth edge on your nails. Squeezing the handle to close the jaws feels fluidly smooth and it is clear that Feather have spent some time properly tensioning the nail clippers to offer the best user experience.
A steel fingernail catcher and a nail file underneath the handle round out the nail clippers. You definitely get what you pay for.
Also Good
Green Bell Nail Clipper (G-1008) – The Green Bell nail clipper is one of the more popular large nail clippers and with good reason, it's heavy duty and it's sharp. Japan proves once again they know how to put together a good nail clipper. Please note, there are two different types of Large Green Bell Clipper. The G-1008 has a triangular end to the handle and the G-1007 has a squared end and is near identical to the Seki Edge Toenail clipper. It was a close race between this and our top pick and you won't go wrong with either.
Seki Edge Toe Nail Clipper (SS-107) – Despite being called a toe nail clipper the curved blade makes it perfect for both your fingers and toes. The sharp blades leave a level finish as they slice through your nails.
Mehaz 662/Kai 003 Medium – Both of these nail clippers are identical. We would consider them our budget pick but a mere five dollars is all that separates a budget nail clipper from a superior one in this list. But if your budget can't stretch further then these are the best large nail clippers you will get for the price. We were able to pick up the Mehaz 662 cheaper than the Kai 003 M.
Large Nail Clippers to avoid
The following large nail clippers fell short in one way or another.
Harperton Klipit Large nail clipper – While these were in no way bad nail clippers, they were simply outclassed by the Japanese nail clippers we tested. The only downside to these clippers is the thicker blades prevent you from getting the closest possible cut.
KlipPro Large Nail Clipper – Nothing exceptional. While they may be superior to your cheap drugstore clippers; for a few dollars more you can jump up to Japanese nail clippers of exceptional quality. We also disliked how the extra thicker blades made it difficult to get under the nail bed, preventing a truly close cut.
Muji Large Nail Clipper – The silver Nickle-plating scratched where the lever meets the handle. The exposed metal below began to rust before our testing period was out. The nail catcher is also poorly designed and obstructs you when using the very edges of the nail clipper. It's a shame because the nail clippers are quite comfortable to hold and the sharp blades effortlessly cut through nails.
Niegelo Topinox Large Stainless Steel Nail Clipper – Gorgeous nail clippers with razor sharp blades let down by a small jaw opening. The jaws of the Topinox were the smallest out of the large nail clippers we tested.
Premax Stainless Steel Nail Clipper – Despite their unique and eye-catching design the Premax nail clippers where the worst nail clippers we tested. They are simply awful. The jaws don't align, the blade edges are jagged, the matte stainless steel finish scratches easily and they are expensive. While they may be made in Italy; there were generic Chinese nail clippers we tested that outperformed them.
Zwilling J.A Henckles Toenail Clipper – Over-priced junk hiding behind a premium brand name. The black nail clipper catcher obstructs your view and leaves jagged edges.
Best Toenail Clippers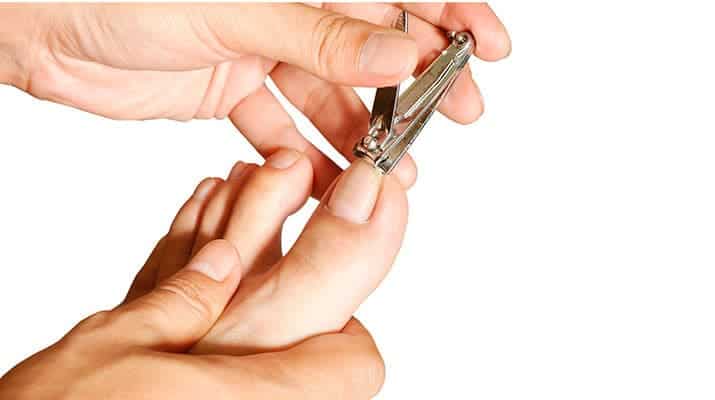 You will immediately be able to identify toe nail clippers by their large size and straight edge.
There is little on earth more painful than ingrown toenails and if you are prone to them you will be fully aware how important it is to cut them straight.
As you can imagine, a straight cut is impossible to achieve with curved nail clippers. That's where the straight-edged nail clippers come in. With them you will be able to achieve a perfectly square cut across your toenail.
Straight toenail clippers are not effective for use on fingernails While they will still cut through, the added size and straight edge leaves fingernails with jagged edges (and you risk spreading fungus). While you can get away with using curved toe nail clippers on larger fingers, we still recommend using the right tool for the right job.
Dedicated toenail clippers are not only much larger than finger nail clippers but also have a longer handle. The combination of the two helps provide more leverage to help slice through thick toe nails.
We noticed an interesting trend amongst all the dedicated toe nail trimmers we tested. The average opening of the jaws is 1/16th of an inch. This means that toenail clippers are better suited to those with standard toe nails.
Toe Nail clippers cannot perform miracles. If your toe nails are particularly bowed, gnarled or covered in thick fungus or just super-thick man toe nails; then you may be better off investing in medical grade plier-style clippers (often called nail nippers).
Note – if you don't suffer from ingrown toenails then check out our large curved blade nail clipper recommendations, suitable for both finger and toenails.
Kai 003 L – Best straight toenail clipper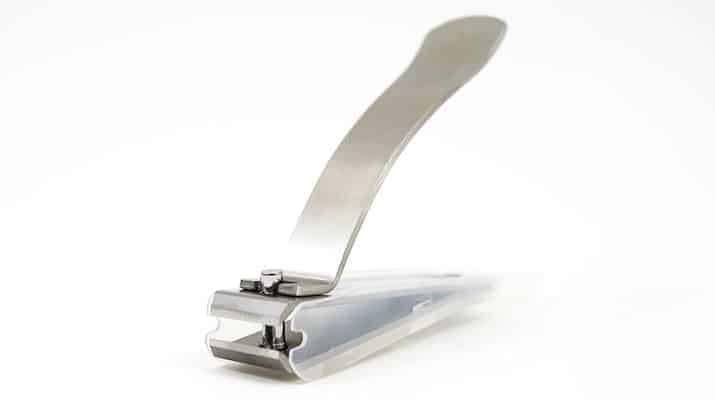 The Kai 003 L were built for cutting toenails. An extra long handle allows you to obtain the maximum leverage when combatting stubborn toenails.
Both the jaw with and opening was the widest out of any other straight edged nail clipper we tested.
Placing your average toenail between the jaws will see the Kai 003 L Effortlessly slice through.
The plastic nail catcher adds more length to the handle again but can easily be removed if you find that it obstructs the jaws.
Seki Edge In-Grown SS-104 – Best Angled Toenail Clipper
Seki has produced a nail clipper that is perfect for those of you for ingrowns. The slanted edge makes it easier to cut the edges of your nail that hide beneath the skin.
Unlike other slanted nail clippers, Seki has cleverly rounded the very sides so that they do not dig uncomfortably into your skin as they cut.
Performance was as you would expect from Seki, the average toenail was easily cleaved in two. Despite the slant it was still easy to cut a straight edge on toenails.
Despite the odd shape testers found these comfortable for both right and left handed use.
Toenail Clippers to avoid
While the above two nail clippers excelled at cutting toenails, their competitors performed particularly poorly. The following toenail clippers fell short in one way or another.
Ez Grip Nail Clippers Large – Take a pair of nickel-plated nail clippers and add scissor handles. While they may look functional they cut no better than your basic drugstore clippers. The scissor handles also made them awkward to use when attempting to cut the toenail straight and bent too much to gain proper leverage.
Mehaz Professional Angled Straight 664 – The blade edges had a jagged finish on the corners. While the plastic made the handle longer for better leverage, it also made the nail clippers feel less responsive.
Mehaz Professional Wide Jaw 668 – Flimsy. The nail clippers actually fell apart during testing.
KlipPro Straight Edge – While the powerful jaws and sharp blades were capable of cutting through toenails, the lever made it difficult to gain proper leverage. As a result we were unable to see the true potential of these nail clippers.
Probelle Stainless Steel Toenail Clippers – While we liked the angle of the blade, we found that it had a tendency to squash rather than cut the toenail. The nail catcher handle was also frustrating to remove.
Tweezerman Professional Stainless Steel 5011-p – The price says it all. Cheap and nasty. The jaws had a cross-bite making the edges of the blades unusable.
Tweezerman Professional Deluxe – Very similar to the Mehaz 664, the sharp blades noticeably dulled after just a few uses.
Tweezerman Gear Precision Grip – Not much to like. The poorly aligned blades left jagged edges. And whoever decided to coat the lever with plastic made a foolish decision. Fingers slid down the slippery plastic as you apply pressure.
Best Nail Clipper Set
A nail clipper set will consist of two different nail clippers. One for your finger nails and one for your toe nails.
Nail clipper sets are generally cheaper than buying the two separately and are a great solution to those of you who want a matching pair of nail clippers for both your fingers and toes.
Another advantage of nail clipper kits is that they will often come with a carry case, making them ideal for gifting.
Note – We focused on sets that ONLY featured nail clippers. Any sets that contained scissors, cuticle pushers etc. were disregarded.
Seki Edge Craftsman – Best nail clipper set
The Seki Edge Fingernail clipper (SS-108) and toenail clipper (SS-107) and combine them in a zip up black leather pouch and you have the perfect nail clipper kit for most people.
Both nail clippers are sharp, hold their edge and are easy to grip and use. They would make a great starting point for anyone looking to see what the fuss is about when it comes to Japanese nail clippers.
Harperton Klipit – Best budget nail clipper set
Hitting the sweet spot where value meets performance meets value, The Klipit Nail Clipper set is our go to recommendation for those of you looking for an effective finger and toenail clipper for a reasonable price.
The toenail clippers are well made and the slight curve in the handle makes them easier to grip than nail clippers that have a straight body. The lever is thick, doesn't bend and allows for good leverage when cutting through tough nails.
Our only complaint is that the blades are thicker than other nail clippers we tested. This prevented us from getting the closest possible cut. If you want your fingernails as short as humanly possible then you may want to skip over these.
Please note that these are not American made nail clippers. Haperton designed the Klipit Nail Clippers in the USA but manufacturer them in China.
Nail Clipper Sets to avoid
The following nail clipper sets fell short in one way or another.
Clyppi Nail Clipper Set – Average nail clippers at best. For the quality offered they are overpriced. Their nearest competitor is the Harperton Klipit which outperformed them in every single way.
Klhip Classic Clipper Set – You may be surprised to find we don't recommend a Klhip product. It's not that these are not great clippers, they are. But Klhip has simply rebranded Kai's 003 nail clippers with a different handle. You can pick these nail clippers up at half the price by purchasing them separately. They don't even come in a case. Not recommended.
Three Swords Basic Line – Not bad nail clippers for the price. However the gap between the blades was much smaller than other nail clippers. They also left nails a little more coarse than we would have liked.
Trim Fingernail and Toenail Clipper set – These are just your dollar drugstore clippers packaged together at a premium price. Blunt blades and poor workmanship; there is nothing to like about these nail clippers.
Tweezerman Deluxe Nail Clipper Set – Barely better than drugstore clippers. The was a gap betweent he blades with the jaws closed and the cut left our fingernails with rough edges. The black handle scratched and chipped quickly and bent too much when compressed. All round poor quality.
Best Travel Nail Clippers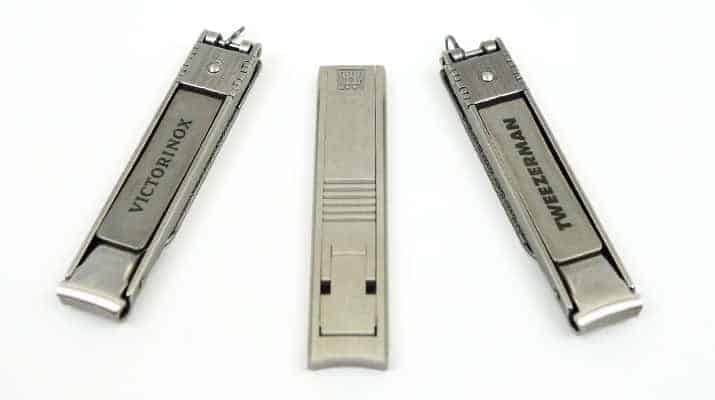 From extended camping trips to hiking the world, travel clippers will help keep your nails short no matter how far from home you may be.
When traveling, space is a precious resource. As a result, travel nail clippers are designed to be as compact and streamlined as possible. Most nail clippers designed for travel miniature design that fold out into a fully fledged nail clipper.
Travel nail clippers compromise performance for their space-saving ability and generally feature a smaller blade opening and the thin design can prove fiddly to use, they also leave a sharper edge to the nail.
As a result, we do not recommend using travel nail clippers as an at-home solution for trimming your nails.
Victorinox MultiNail & Tweezerman Folding – Best all round travel clipper
These two nail clippers take out the award for best travel nail clipper for the continental United States. Unfortunately due to the sharp nail file, they are not suitable for air travel and will be confiscated by the TSA if found in your carry-on. But they can be packed away in your checked baggage.
Interestingly, both the Victorinox and Tweezerman travel nail clippers appear to be made from the exact same mold. Both models are identical in terms of looks and features and performance. While Victorinox does not mention where their clippers are made, the Tweezerman box states that they are made in Korea.
Curiously while the Vicotorinox advertises that it's nail file can also be used as a flat screwdriver, Tweezerman doesn't, despite having the exact same nail file.
A small ring can be found at the edge of the nail clippers so that it can be attached to your key chain, keeping the nail clippers on hand for when you need them most.
Use of the nail clippers can be tricky thanks to the nail file that hangs loose when the clippers are opened up. We found it easiest to rest the nail clipper on your middle finger, cover the nail file with your index finger and press the lever with your thumb.
In terms of cutting, the mouth of the blades are sharp and effective for finger nails. The smaller mouth does make lining the nails up slightly more difficult and are unsuitable for all but the lightest of toenails.
Zwilling J.A Henckels Ultra-Slim– Best TSA friendly Travel Clipper
Our go to choice for those of you that want a slim nail clipper that is TSA friendly since it lacks the sharp nail file. We have tested this ourselves when flying interstate with the nail clippers in our carry on and have not had them confiscated by overbearing TSA agents.
The Zwilling J.A Henckels nail clipper is three times the price of our our previous recommendation. It is also half the size. This is perhaps the slimmest nail clipper available on the market.
It's a shame that a carry loop is not included on the nail clippers. Given the small size they are quite easy to misplace.
In terms of cutting, the opening where you insert your nail is slimmer again than the Victorinox or Tweezerman travel clippers. Once you get your nail inside the sharp blades make short work of your fingernails although repositioning the blade can prove to be fiddly.
There is a hidden nail file underneath the lever while it is quite narrow it will get the job done if you have the patience
Despite being a German brand, Zwilling J.A Henckels manufactures the Ultra-Slim nail clippers in China.
Best Swivel Nail Clippers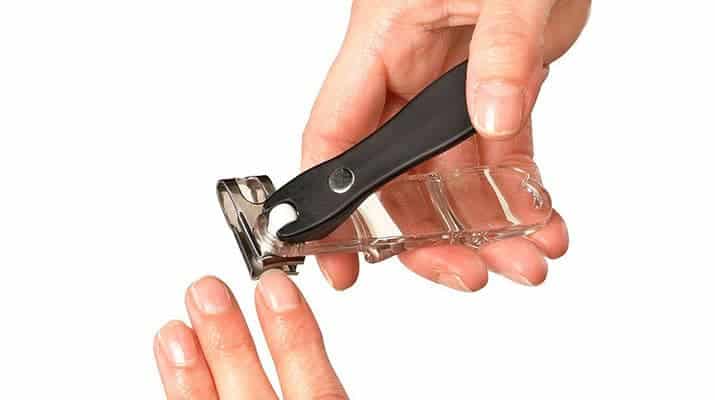 Swivel nail clippers are ideal for seniors and those of you suffering from arthritis or limited hand movement. If you have reached the age where cutting your own nails prove difficult, Swivel nail clippers offer a surprisingly simple solution.
As the name suggests, the head of the nail clipper can rotate allowing you to hold the handle at a 90 degree angle to the cutting head. This makes it particularly easy to hold in both your left hand and your right.
Swivel nail clippers generally have longer handles allowing you to squeeze the handle with a clenched grip, a much simpler movement for the elderly than squeezing the handles between your forefinger and thumb as you would on traditional nail clippers.
Because the handles are longer than usual, most manufacturers choose to use plastic handles over steel.
In terms of size, the blades of swivel nail clippers generally sit between that of finger nail clippers and toenail clippers. While you will still be able to cut lighter toenails with them, the curved blade makes it difficult to achieve a straight cut.
To be honest, testing swivel nail clippers was disappointing. While there was still a leading pair of nail clippers, the bar was set incredibly low.
Kai HC1824 360 Degree – Best All-Round Rotating Nail Clipper
Kai shows that it is possible to have a plastic handle and a still be able to apply adequate pressure to the jaws. As you would expect from Kai the blades
Unlike other Swivel nail clippers where you manually rotate the clipper head, the Kai HC1824 requires you to twist a dial. As you twist the dial, the head of the nail clipper will rotate.
While the dial could be smoother to rotate, you can simply grab the clipper head to move it around once it has rotated out of the handle.
Rotating nail clippers to avoid
The following rotating nail clippers fell short in one way or another.
Dream Products Rotary Nail Clipper – The blades are poorly aligned and the handles bend too much when pressure is applied. A common problem with plastic handles that are not reinforced with metal.
Zwilling J.A Henckels Rotating Nail Clipper – The small jaws make this nail clipper only suitable for finger nails. But the biggest problem is the plastic handle. What a terrible idea. Not only is the handle difficult to open but rather than apply pressure to the jaws, it simply bends.
But above all… Avoid these: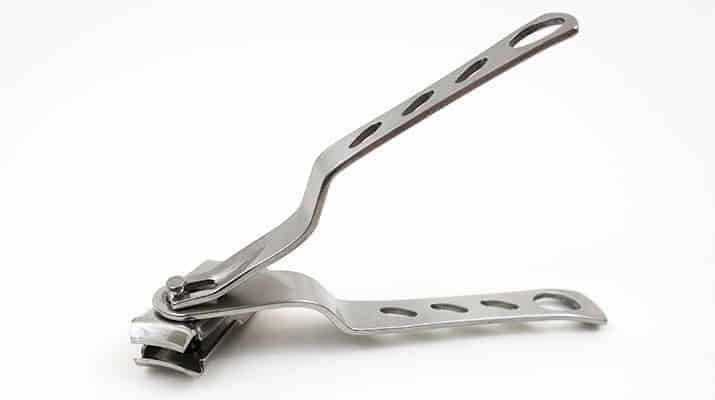 This generic design of swivel nail clippers was the worst that we tested. They are commonly found on Amazon and other online retailers under numerous brand names.
The same problems were found across all models that we tested:
Misaligned blades
Top lever rotates when head is rotated
Lever is too flexible, preventing proper leverage for thicker nails.
There really isn't much to like on this generic Chinese nail clipper.
The models of this swivel nail trimmer that we tested include:
DaBee
SpinSnips
ben-air
Eightwins
Be careful. This style of swivel nail trimmer is also sold under many other different brand names. Avoid them.
Easy to use the best nail clippers
When it came down to it, no other nail clipper could compete with the Three Seven (777) extra large nail clippers. Made in Korea, you would be forgiven for thinking the exceptionally well-crafted blades came from Japan.
A 5.5" long handle was easy to grip even by those with reduced tactile sensation in their hands. The blades are sharp and combined with the long lever cutting requires minimal pressure.
In fact testers were even able to hold the nail trimmers in a clenched fist and still properly operate them.
Easy-to-use Nail Clippers to avoid
The following finger nail clippers fell short in one way or another.
Ableware One-handed nail clipper – A great idea for people who only have use of one hand. Unfortunately it is hampered by poor quality materials. The plastic bends, flexes and before long breaks. We broke ours within a week of testing. Even when it did work the poor dull blades on the nail clippers failed to impress.
EZ Grlip Nail Clippers – Despite looking easier to operate than regular nail clippers, too much pressure was required to operate the dull blades.
Tweezerman Power Nail Clipper – The flimsy plastic handle coupled with the small size of the nail clipper really makes these unsuitable for people with arthritis.
Premium Nail Clippers
These are the Rolls Royce and one of the best nail clippers. Engineered to perfection. Few people will ever be able to justify the cost of paying over $70 for nail clippers. But if you are a fan of buy it for life products or just like boasting to your friends the amount you pay for your product then look no further.
Interestingly both premium nail clippers we tested ditched the built-in nail file and cuticle hook and solely focused on the nail cutting experience.
Both nail clippers come with their own storage cases to prevent damage and keep the blades sharp when not in use. As you might have guessed, these nail clippers are not designed to be thrown in the bottom of your toiletries bag but rather treated with care and respect.
Over all we were hugely impressed with the quality and effectiveness offered by these best nail clippers. But then again; given the price, you would hope that would be the case.
Klhip Ultimate Clipper – Best premium fingernail clipper
The Klhip Nail Clipper is a fine example of engineering. Klhip have successfully redesigned the nail clipper and the result is like no clipper you have ever seen before. And the satin metal finish just looks gorgeous.
It's ergonomic design requires you to press the clipper lever down towards the blade, making the clippers just as easy to control with your dominant hand as your off hand.
The Klhip clippers effortlessly cut through finger nails and, thanks to a straighter then usual blade, performed well on thin, easy to cut toenails. Thick toenails saw performance suffer. Read the full review here.
Kershaw by Kai PQ0503 Best premium toenail clipper
The Kershaw is perhaps the most expensive nail clipper on the market. And it is designed just for toenails.
We were surprised at just how well the Kershaw performed on even dried out and thick to nails. Pulling up on the lever makes the mouth of the nail clippers twice as wide and the incredibly sharp blades made short work of toe nails that otherwise required nail nippers to remove.
If the Kershaw was a fraction of the price this would be our go to recommendation for toe clippers. But unfortunately they are prohibitively expensive for most people.
The handle is longer than most nail clippers which does take some practice before you will perfect the technique. Unlike on traditional nail clippers, the long handle cannot fold down to reduce the size.
Best Nail Nippers For Thick Or Fungal Nails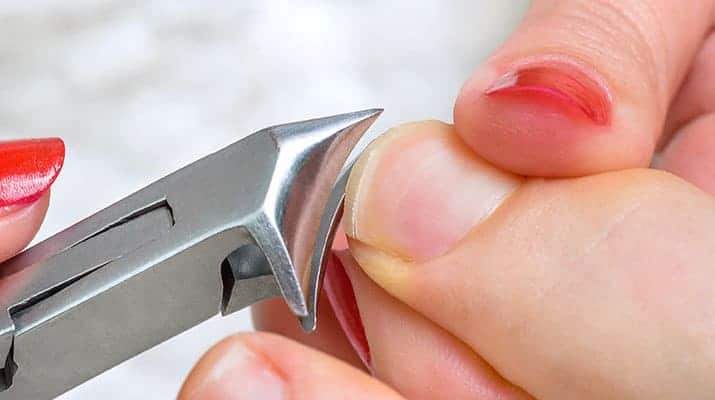 While this guide is primarily about the best nail clippers, we couldn't leave without providing a cutting solution for those of you with nails that are too thick to be cut by conventional nail clippers.
Nail nippers are essentially heavy duty nail scissors for your toes. Because the jaws can open much wider than traditional clippers, they are suitable for extremely curled or rock hard nails.
Nail nippers require much more care than the fool-proof fold up handle clippers. One miss-snip and you can do some serious damage to your toes. We recommend that you seek the advice of a podiatrist before moving forward with purchasing a pair of nail snippers. They will not only be able to give you advice on cutting technique for your nails but may also be able to offer alternate solutions.
While Miltex Nail Splitters are the favorite of Podiatrists, they are a specialist tool. Prices start at over $100 and quickly pass the $400 mark. While you definitely get what you pay for, they are outside of most peoples price range.
So we tested a some budget friendly varieties. And the winner was quite unexpected. It came from a manufacturer whose nail clippers failed to impress us:
Kohm Toenail Nippers – Best affordable nail nippers
The Kohm were durable, sharp and cut through hard, thick nails with ease. The curved blade and narrow tip allowed testers with bowed nails to precisely snip away at the nail in trouble spots, like where the toe nail curves under the skin.
While we initially had our doubts with the thin handle, the ribbed metal made them particularly easy to grip.
The spring returns the blade to the open position when pressure is relived from the handles. This spring can spring out of the way allowing you to store the nippers with the jaws closed when not in use.
The blades are sharp enough that they do not leave the edges of the nails too rough. For a budget nail nipper, this is as good as it gets.
Suwada Classic Nail Nippers – Best nail nippers under $100
A favorite here at the office. These nail clippers were so popular that the two pairs we ordered in both "went missing" during testing. A true testament to their performance.
Japan proves once again they are king of the nails cutting. Rather than cut on the side like regular nippers, the Suwada blades are found at the front of the nipper, similar to a conventional nail clipper.
The blade is outstanding. Angled to a point the head effortlessly cut through thick toenails, even monster toenails found on diabetic feet didn't stand a chance. The point of the blade was perfectly shaped for precise cutting where the nail meets the cuticle.
Nail nippers to avoid
The following nail nippers fell short in one way or another.
Equinox Heavy Duty Toenail Nipper – Near identical to the Tweezerman barrel spring at half the price. While they cut well enough for the price, the barrel spring took some time to spring back after each cut.
Fox Medical Podietrist Toenail Nippers – Very similar to our top pick, the KlipPro. However the shorter handle did not have any grips and the workmanship was a lot rougher.
Revlon toenail nipper – The spring in both our Revlon nail nippers broke during testing. While this might have been a bad batch, Revlon's quality control should have caught this.
Seki Edge Professional Nail Nipper SS-202 – Despite Seki performing well in all categories of nail clippers, their nippers were not up to par. The handles were too short to allow for precise control.
Tweezerman Barrel Spring Toe Nail Nipper – Out of the box these were the dullest nippers we tested, even Revlon outperformed them! They were the only nail clippers to fail at cutting through one of our testers toenails. While Tweezerman claims they will re-sharpen the blades free for the life of the nippers we simply cannot recommend them at this price.
Best Nail Clippers Summary
| Nail Clipper | Best for… |
| --- | --- |
| Seki Edge SS-106 | Finger Nails |
| Feather Parada M | Finger and Toe Nails |
| Kai 003 L | Toe nails |
| Seki Edge Craftsman | Nail Clipper Set |
| Victorinox MultiNail | Travel |
| Kai HC1824 360 Degree | Easy cutting |
| 777 Extra Large nail clippers | Elderly and arthritic hands |
| KlipPro Toenail Nippers | Thick and Fungal Toe Nails |
Buyer's Guide
At first, you might think that shopping for nail clippers is easy. In truth, a few crucial features can set every nail clipper apart from each other. Whether you're looking for toenail clippers or one made specifically for fingernails, there are many things to note.
This buyer's guide will review how to find the best toe nail clippers for thick nails, thin nails, and regular nails. We guarantee you'll find the ideal nail clipper kit for the smallest nail, widest nail, or even the thickest.
Material
The most important thing to consider when shopping for toe nail clippers and fingernail clippers is their material. You will want to ensure you choose a pair crafted from high-quality metal, ideally steel. Stainless steel appears to be one of the more popular options, as it lasts an incredibly long time and is durable.
Nail clippers shouldn't bend under the excess weight, which has everything to do with their material. The stronger the metal, the more it will stand up to thick and challenging nails. Also, dense metal makes the nail clipper easier to use, ideal for those looking for toe nail clippers for seniors.
Another huge factor in your toenail nippers' metal is their rust resistance. This point is significant for professionals who often clip wet nails. With a rust-resistant metal, the clipper's mechanisms will stay in their best condition for longer.
Sharpness
The second feature you need to consider when shopping for toe nail clippers is their sharpness. They should be sharp out of the box and last for many years. For thick toenail clippers, the last thing you want is to use them three times before noticing they don't slice through nails as easily as before.
You may also consider an alternative to standard nail cutters, such as toenail scissors. With scissors, you can sharpen the blades over time. As you can imagine, this is important for making sure your equipment is always as sharp as possible for thick and thin nails.
Blade Contouring
If you've been able to compare toenail clippers to a fingernail clipper, you have likely noticed their shapes are quite different. Toenail cutters tend to be much wider than slanted nail clippers. With this difference in width, their contouring is also significantly different.
If you were to use toenail clippers on fingernails, you'd find the nail's apex will be in a different spot. Unfortunately, this can make it difficult to get the right curvature for the best nails in the world. Instead, you should choose clippers specifically for your hands and feet.
This feature is also important to note for toenails, as blade contours have everything to do with ingrown toenails. When you clip your nails, you'll want to ensure you don't dig into the sides of your nail bed. When this happens, the likelihood of suffering from ingrown toenails increases.
Instead, your clippers should have the optimal curvature for safe and healthy clipping. They should be wide enough and offer the ability to have straight edges at the sides.
Grip
The final feature that's highly recommended to consider when shopping for toe clippers is the grip. The better grip you have, the easier it will be to get a clean and even cut with the thickest and smallest nail. Even when using sleek metal thick nail clippers, some ribbing on the handle should help you maintain control.
In fact, toenail clippers for the elderly often come with built-in or removable grips. They help make the tools easier to use with wet feet, which is also important to note.
How we tested the best nail clippers
Our top picks performed the best in all the following categories:
Alignment – Squeezed nail clippers closed and took a side photo, zoomed in, to determine if top and bottom blades lined up.
Blade quality – Shined a torch through the front of the nail clippers with the jaws closed, looking for any gaps or irregularities that let light shine through.
Blade sharpness – Nail clipper blades had to cut through a plastic card (similar to your credit card) as well as any nail that fit in the gap.
Blade durability A whole plastic card was clipped to pieces, the nail clippers then had to satisfactorily cut through a fingernail or toenail.
Build quality – Levers should not move from side to side when pressure is applied. Lever should flex as little as possible Etc.