There are only really two competitors for best manual nose hair trimmer. The Muzitao (which downright sucks) and the Groom Mate Platinum XL. While the playing field is small, the Groom Mate is nothing but quality and with proper care will last a lifetime. That's a lot of nose hair trimming sessions.
Groom Mate Platinum XL
Unboxing
The packaging is fairly plain. If you are buying this nose hair trimmer as a gift then perhaps you will want to consider the professional model.
The Premium version includes a screw on cap, leather pouch and premium packaging. If you are looking to give this nose hair trimmer as a gift to your hairy nosed friend then it is worth dropping the extra cash.
Groom Mate nose hair trimmer
Cleaning brush
Plastic container
The first thing you notice as you remove the device from the packaging is just how small the nose hair trimmer actually is.
Because this nose hair trimmer does not require a battery or motor, Groom Mate have managed to get the size right down.
Once you get over the size, you will appreciate just how good looking this nose hair trimmer is. Now I know that a nose hair trimmer is not something you show off to your friends and family, but with this gorgeous device, you may find yourself doing just that.
Onto the brush. If you have ever purchased an electric shaver then you will instantly be familiar with this brush. While it may not be as good looking as the nose hair trimmer, it is definitely well made and does what it was designed to do – effectively clean your Groom Mate
And then there is the plastic container…
The plastic container is little larger than a chap stick and is designed to keep your nose hair trimmer clean as it bounces around the bottom of your bag. Too bad it is a flimsy piece of crap.
The container broke during our review when we playfully squeezed it between our forefinger and thumb. If you want something to keep the Groom Mate and brush together you are better off separate drawstring bag. The brush and groomer are so well made that including this poorly made container in the packaging just doesn't make sense.

Now despite being named platinum, this nose hair trimmer is actually made entirely from stainless steel, right here in the USA. Yep, out of all 19 nose hair trimmers we tested, this was the only one made in America.
You know the good thing about stainless steel? Not only is it incredibly resistant to rust and corrosion, but it can also take an absolute beating. Unsurprisingly, this nose hair trimmer performed better than any battery operated one in our drop test.
On the side of the Groom Mate you will notice a screw:
Carefully undoing the screw will allow you to break the nose hair trimmer down for maintenance. Be careful if you do this as the screw is particularly small and can easily be misplaced.
We know this first hand as we dropped the screw onto the floor and spent a frantic 5 minutes trying to find the darn thing.
In case you were curious, when disassembled, the Groom Mate looks like this:
Not much to it, huh?
Sometimes it really is the simple things that work the best.
Cut
Using the Groom Mate is as simple as sliding the device into your nose or and ear and twisting the bottom. As you twist the base of the Groom Mate, the blade will spin, swiping away those pesky long hairs.
Unlike an electric nose hair trimmer, you will need two hands to operate the Groom Mate.
It is worth mentioning that all manual nose hair trimmers come with a learning curve.
Without the proper technique, you will rip nose hairs out on your first attempt. And likely second and third attempts to. This is also true of the Groom Mate.
I found that the nose hair trimmer cut around 95% of the time with the remaining 5% of the time it would rip the hair right out, followed by a painful cry (I am not good with pain).
If you like surprises, you will love the fearful anticipation that comes with using this nose hair trimmer.
Jokes aside, this probably won't replace your battery operated nose hair trimmer. But if you live off the grid or need to slay a stray monster hair while out and about then the 95% cut rate is much better than having visible nose hairs on display for the world to see.
If my only option was to use scissors or to pluck nose hairs with tweezers then I would choose the Groom Mate every single time.
Cleaning
Being made entirely from stainless steel, the groom mate was very easy to clean. Simply dunk it under water and flick away any bits of snot or nose hair with the cleaning brush included in the pack.
After a few uses you may want to give the nose hair trimmer a deeper clean. Simply unscrew the screw and wash thoroughly. Before you put it back together, make sure you use a household oil on the shaft, lubricating it and keep it spinning smoothly.
Noise
Since this nose hair trimmer does not contain any motor, it is whisper quiet. You could use this at your desk and unless your co-workers actually saw you using it, they would be none the wiser.
While electric nose hair trimmers sound like a vibrator if they go off in your bag (embarrassing), you won't have to won't have to worry about any humiliating noises coming from this trimmer.
Without question, the Groom Mate is the quietest nose hair trimmer on the market.
The size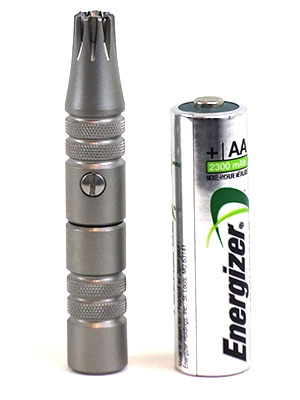 This nose hair trimmer is small. Real small. As you can see in the photo above, it's barely bigger than the AA battery next to it. If you are a tyrant with your beauty regime then you will love the fact you can hide this away at the bottom of your bag having it there for just the right occasion when you need it.
Groom Mate have created a very viable travelling toiletry tool. The small size coupled with the low maintenance makes this one product that should definitely make the toiletry checklist when packing.
The small size does have its drawbacks though. Unless you have a dedicated spot that you store the nose hair trimmer, it is quite easy to misplace.
Durability
As you would expect, being made from stainless steel this nose hair trimmer is very durable. With proper care, the Groom Mate Platinum XL could very likely lasting the lifetime that the manufacturer claims.
Groom Mate is so confident in their product that they offer a limited lifetime guarantee. Straight from the back of the box:
GROOM MATES are guaranteed to work properly and last forever. If you are ever dissatisfied, please return your trimmer to your retailer for a replacement or refund.
Unfortunately this guarantee does not cover accidental damage. Still impressive though!
Conclusion
While the groom mate may not cut perfectly 100% of the time, it sure beats the heck out of using tweezers or scissors. For those of you that love to travel or are looking for a compact nose hair trimming solution then look no further.
Related read: Wahl 5546-200 Nose Hair Trimmer Review