Oral-B offers more versatility when it comes to toothbrush heads than any other on the market. From sensitive options to brush heads that help whiten your teeth, there is a lot of choice..
Unfortunately, the sheer number of options can make things quite confusing. While we were reviewing electric toothbrushes we could not find a guide that actually described the advantages and disadvantages of each type in any degree of detail.
So we decided to review them all ourselves!
After months of scrubbing and brushing, we are proud to present you with the most detailed and up-to-date guide comparing all current best oral b toothbrush head.
Best Oral B Toothbrush Head Reviews
Comparison Chart
1. Oral-B CrossAction Brush Head
The CrossAction brush head is currently what Oral-B includes in the box of all their brand new electric toothbrushes, and for good reason!
This toothbrush head is pretty much the jack of all trades and unless you want something a little more unique for your specific problematic tooth or gum issue, it will suit most people wonderfully.
The brush head gets its name from the crisscross layout of the brush bristles.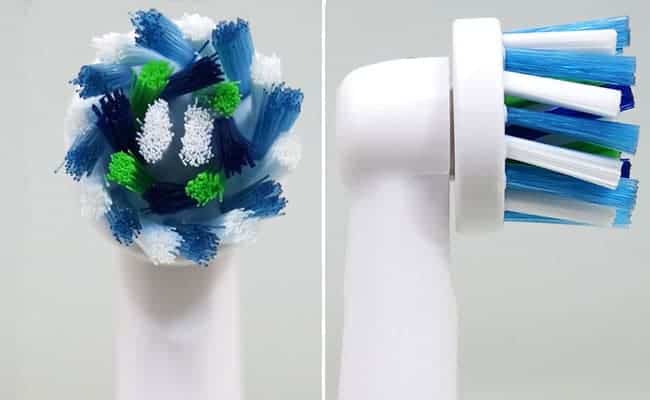 The longer outer clusters of bristles help scrape away plaque from between teeth and along the gum line. The shorter middle bristles focus right where you are aiming the toothbrush head.
If you are used to brushing with medium to firm bristles then you will love this brush head. However, if you prefer your bristles a little less coarse then you are better off choosing the sensitive option below:
2. Oral-B Sensitive Clean Brush Head
The gentlest brush head that Oral-B has to offer. If you have a love for soft bristles then this is the toothbrush head for you.
One of our testers with sensitive gums noted: brushing along the gum line was much more pleasant with the sensitive brush head. Using the other brush heads felt like sandpaper compared to it.
The outer ring features 14 clusters of Oral-B's Indicator bristles. The inner circle contains 12 clusters of light blue bristles. Despite the different colors, both sets of bristles appear to be made of the same soft material.
This is the only choice for those of you with sensitive teeth or inflamed gums. The extra soft bristles are noticeably softer than any other brush head.
3. Oral-B Precision Clean Toothbrush Head
If you are put off by all the other weird and whacky bristle shapes then perhaps the Precision Clean is for you.
The precision clean bristle layout is closer to what you would expect to see on a manual toothbrush.
Each bristle has been rounded on the end (as opposed to being cut flat) resulting in a smoother brushing experience.
The precision clean is best used when focusing on one single tooth at a time. The slight curve across the face of the bristles conforms perfectly to a single tooth. The longer bristles at the top and bottom help out along the gum line while the shorter bristles go to work on the tooth.
4. Oral-B FlossAction Toothbrush Head
Definitely one of the more interesting concepts of Oral-B brush heads. The head of the brush contains 19 clusters of bristles of varying height and 4 tapered yellow rubber wedges.
The theory behind the yellow wedges is that they help with interdental (the area between your teeth) cleaning. They sit loosely, so when you turn your electric toothbrush on, they flail around much more than the bristles.
Now, there is no doubt that the FlossAction gives a great clean, but during testing, we failed to notice that the area between our teeth was any cleaner than brushing with a different Oral-B head using a proper technique.
Oral-B even warns that this brush head is not to be used as a replacement for floss.
While the yellow wedges may not have succeeded between the teeth, they seemed to work wonders along the gum line.
It is also worth mentioning that because of the rubber wedges, the toothbrush head has an unusual feel, but this is something you'll get used to quickly.
5. Oral-B 3D White Electric Toothbrush Head
The promise of a naturally whiter smile just by purchasing a brush head is what we have from Oral-B on this one! Really!? That's a bold statement!
Let's get one thing straight: The only way a toothbrush can whiten teeth is by removing stains with the help of a toothpaste that was designed to do so. Any whitening effect is brought on by the abrasive action rubbing your toothbrush and toothpaste over your teeth; resulting in the lifting of surface stains. A toothbrush cannot "magically whiten your teeth".
So it is unsurprising that all the other toothbrush heads tested so far were equally capable of whitening teeth.
Up until now, the Oral-B brush heads we have covered are round. Because the "polishing cup" takes up so much real estate, Oral-B has made the brush head an oval shape to fit more bristles on.
Because of the oval shape, the brush takes bigger swipes than the small round heads. Coupled with the complete lack of bristles in the middle and you get a brush head that just doesn't clean as deeply as the others.
At the end of the day, you are left with a brush head that doesn't whiten your teeth any better than other heads and offers a worse overall clean. Unsurprisingly, we don't recommend you use this one.
6. Oral-B Deep Sweep Toothbrush Head
A big complaint about the smaller round brush heads is that they do not feel like a handheld toothbrush. That's where the Deep Sweep comes in.
If you were to put the Deep Sweep side by side with your manual toothbrush you would notice that the brush head is nearly identical in size.
The Deep Sweep has the single most unique bristle movement out of the entire Oral-B brush head range. Instead of circular movements, every second set of bristles "sweeps" rapidly from side to side.
Now the Deep Sweep is not a particularly popular brush head but this is largely due to the fact that Oral-B chooses to only include the smaller round heads in the boxes of their new electric toothbrushes.
After brushing with the smaller round head for three months, the head of the deep sweep feels almost oversized, despite being near identical to that of a manual toothbrush.
The Deep Sweep Does leave you with a lovely clean but those of you with smaller mouths will have trouble reaching around the back of your molars, even with the sweeping tip. If you have a smaller mouth then you are better off sticking with the round brush heads.
7. Oral-B Dual Clean Toothbrush Head
The Oral-B dual clean is one of those toothbrush heads that you will either love or hate. Out of all the brush heads, this was the one that divided our testers.
At first glance, the dual clean seems really impressive. The Dual Clean combines the smaller round Oral-B heads with a second head that moves side to side, similar to the Deep Sweep brush head above on a head that is a similar size to a traditional toothbrush.
The testers who loved the Dual Clean commented on how they could work each individual tooth with the round head while the side action head below worked on the gum line and in between the teeth. One tester went so far as to say it was the best clean he had ever had.
Testers who didn't like the head disliked the size (this is the largest oral-b brush head). Another gripe that the dead space between the top and bottom brush has no bristles, resulting in a missed surface area.
With no clear winner, it looks like this brush head is going to have to be one that you try for yourself. If you love the size of your traditional toothbrush head but don't like the side to side action of the Deep Sweep then this is definitely worth checking out.
Other Oral B Toothbrush Head Alternatives
Apart from a Braun toothbrush and Sonicare, Oral B has a diverse collection of brush heads. As one of the most popular toothbrush brands, their products are unique because their toothbrush heads help you customize your electric toothbrush. Even if you purchase one model, like the Oral B Cross Action Toothbrush, you can change the head.
That said, it's important to get an idea of the different toothbrush heads this brand offers. From the Oral B CrossAction to the Oral B Floss Action, there is plenty to consider. Let's review a few alternative varieties and some quick facts about each.
When hunting for a modern oral toothbrush, you've likely come across the iO, the newest model from Oral B. There's no doubt these toothbrush heads are designed to impress with innovative components. With the iO Ultimate Clean, you'll get a deeper clean than the Oral B CrossAction or Oral B Floss Action.
The bristles on this brush head are specifically designed to reach deeper areas of your mouth. With the dual-length tufted bristles, the areas in between your teeth get a deeper clean. It's one of the more preferred Oral B brush options for those dealing with plaque.
Another huge benefit of the iO Ultimate Clean is its design for everyday use. Instead of switching out your heads, the deep cleaning is gentle yet strong enough to remove typical debris.
One of the more popular brush head models on the electric toothbrush Reddit list is the iO Gentle Care. It has many of the same benefits as the iO Ultimate Clean but in a gentler fashion. If you're someone who has used a Braun toothbrush only to find it too harsh, this alternative is ideal.
The iO Gentle Care brush head has soft bristles designed to be extra flexible, so the head conforms to the shape of your teeth. It's also a remarkable solution if you want an oral brush that can get closer to your gums without damage. Ideal for sensitive mouths, these replacement brush heads are great for seniors and children.
Charcoal in a toothbrush replacement head took the world by storm several years ago with its whitening power. A charcoal head could be preferred if you get your hands on an Oral B 2000 Amazon or any other model. It's a fantastic addition to toothbrushes to help remove surface stains.
These Oral B replacement brushes are unique because the charcoal is embedded in the cup-shaped bristles. The charcoal will be evenly dispersed across the surface as you work through your mouth tooth by tooth. The more often you brush your teeth with these replacement toothbrushes, the whiter they'll become.
Instead of opting for a standard Oral B Precision Clean toothbrush head, the Sensi Ultra-Thin is great for an Oral B Cross Action toothbrush. You'll get the deep clean you've always wanted without causing damage to your sensitive gums and teeth.
The bristle design in these replacement toothbrush heads is their best feature. You'll find a combination of tapered, thin, and flexible bristles with standard length and textured bristles.
This design ensures that your teeth are adequately cleaned without the abrasiveness of standard toothbrush replacement heads. As a result, it's a little more comfortable than other head types, like the Oral B Pro Gumcare line.
The Basics – Oral-B Brush Head 101
Making the switch to an electric toothbrush is a very different experience to that of a manual one. Let's take you through the process briefly.
Replacing the brush heads
Over time you will notice your once new toothbrush head begin to look old and frayed. Once perfectly straight bristles will now point in every direction like a hedgehog.
Just like your regular toothbrush, it is recommended that you replace your Oral-B electric toothbrush head once every three months.
Fortunately, Oral-B brushes heads are, on average, less expensive than replacement heads for other brands (namely the Philips Sonicare range).
Indicator Bristles
Despite the wide selection of bristle styles, lengths, and shapes across the Oral-B brush head range, they all have one thing in common.
You may have noticed in the picture above that each toothbrush has at least one cluster of light blue bristles. These bristles are called indicator bristles with use will fade over time.
In theory, the bristles should begin to fade with brushing after three months of use giving you a visual reminder that it is time to change your brush head.
During testing, we found that the indicator bristles worked remarkably well and with proper brushing technique (not pressing down too hard), lasted almost 3 months to the week.
You could reliably use these bristles to determine when it is time to replace your Oral-B brush head.
Identification rings
One of the great things about electric toothbrushes is that they can be shared. Well, the handle at least.
If your whole family is keen on the idea of electric brushing then you can allocate each person their own toothbrush head.
There is not much more disgusting than the thought of using someone else's toothbrush. Fortunately, Oral-B Includes small colored identification rings with each toothbrush head.
These colored rings clip to the bottom of the toothbrush so that you can tell them apart. It's a great feature, but it's common to other brands and styles of electric toothbrush as well.
Every packet of replacement brushes comes with an equal number of different colored rings to toothbrush heads. Each will be a random color.
There are four different colors:
Blue
Green
Pink
Yellow
Because the indicator rings come separately you can choose not to clip one onto the base to give you a fifth color, plain white.
Refill Pack size
Most Oral-B replacement heads are available in refill packs of 1,2,3,4,5 or 6, however, this does vary depending on the type of brush head.
As you may have guessed, it is cheaper to buy the larger packs at once. If you only use one at a time simply store the rest safely away in your medicine cabinet. If you are going to continue using an electric toothbrush then you will eventually need them.
Oral-B Heads are interchangeable
The best part about owning an Oral-B rechargeable electric toothbrush is that you have access to the entire range of brush heads. No matter which model you own, including:
Vitality
Pro 1000
Pro 3000
Pro 5000
Pro 7000
And that's to name just a few. Whether a top of the line model or the most basic, any of the previously mentioned brush heads will fit your electric toothbrush.
Note: The now discontinued Oral-B sonic range and other older models may not be compatible with the modern range of toothbrush heads.
Where to buy Oral-B Brush Heads
We prefer to buy our Oral-B brush heads from Amazon. Not only do they often offer discount coupons but have a nifty subscription program where you can arrange to have your replacement brush heads delivered every 3 or 6 months (just when you are due to replace them). Talk about simple!
If you prefer to shop locally you can pick up replacement brush heads from your local pharmacy or bigger retailers like Walmart or Target.
What about generic replacements?
You may have seen those generic brands being sold much cheaper than the official Oral-B brush heads. If you are feeling frugal or just downright love a bargain then these can be hard to resist.
Unfortunately, when it comes to brush heads, Oral-B cannot be beaten at its own game. From heads failing to move after just a few weeks use to bristles falling out while brushing, generic heads simply do not have the same quality as the official Oral-B brush heads.
In other words, we found that generic brush heads were more trouble than they were worth.
But good news for those of you on a budget: Oral-B frequently discounts their range of brush heads. All you need to do is stock up when they go on sale. Remember, you only need to replace your brush head once every three months, so four brush heads will last a year.