While you may not have a honey dipper in your home you will have likely come across them in oatmeal commercials, evenly drizzling honey over the surface.
Honey dippers are becoming less popular with many sweet tooths now choosing sugar as their sweetener of choice. That said, honey dippers still have their place among your kitchen utensils and are especially helpful if you reach for your honey on a daily basis.
Despite the name, honey dippers are suitable for more than just honey. Syrups, melted chocolate and caramel sauce are just a few of the thick and sticky foods that can be drizzled from a honey dipper.
You may have heard a honey dipper referred to as a honey wand or honey stick. Whatever you call it, it's function is the same – easily scoop honey out of the jar without dripping all over your counter and providing more control when dripping the honey.
Now you may be wondering:
Can't you just use a spoon?
While you can use a spoon, it just isn't the right tool for the job.
As you can see in the above photo, a spoon dumps a lump of honey in a single spot. A honey dipper releases a slow and steady dribble, allowing you to get an even coating of honey.
It is also difficult to keep honey on a spoon without it dribbling down the side of your honey jar and over your kitchen counter. Not only is a sticky honey jar difficult to clean but can also attract ants.
With proper technique, you could walk a dipper loaded with honey around your entire house without making a mess.
The best way to store a honey dipper caused much debate amongst the users we interviewed.
Traditionally, a honey dipper is stored in the pot with the honey. In order to keep it clean you simply hover the honey dipper and let the honey fall from the head.
As long as the honey wand does not make contact with your food you will not contaminate your honey. Since honey has antiseptic qualities, the honey dipper will remain hygienic for years. There might be some truth to this – my grandmother claimed to have left her honey dipper in her honey pot for over 20 years.
However, other users preferred to let the honey dipper soak in their cup of tea or use it as a tool to smear the honey over bread or biscuits. These users simply washed the wand after use before storing it with the rest of their kitchen utensils.
At the end of the day, a honey dipper is designed to make your life easier – so use it as you want!
Unfortunately, not all honey dippers are created equally. Fortunately we have done the hard work for you and separated the top performers from the honey dippers that downright suck.
But before I cover the best honey dippers let's take a closer look at the correct technique when using a honey dipper.
How to use a honey dipper
1. Dip It! – dip the honey wand into your honey jar at an angle.
2. Cover it! – Cover the tip of the honey dipper in honey. We found the easiest way to do this was to twist the handle until the dipper is covered.
3. Twist it – Slowly twist the handle of the dipper while lifting the tip out of the honey. Continue to twist. As long as you are twisting the dipper no honey should fall, you can even carry the honey dipper across the kitchen without it dribbling.
4. Drip it! – To release the honey simply stop twisting. Gravity will do it's work and honey will drizzle from the end in a slow and even flow, like a golden waterfall. Simply move the honey dipper around for even coverage.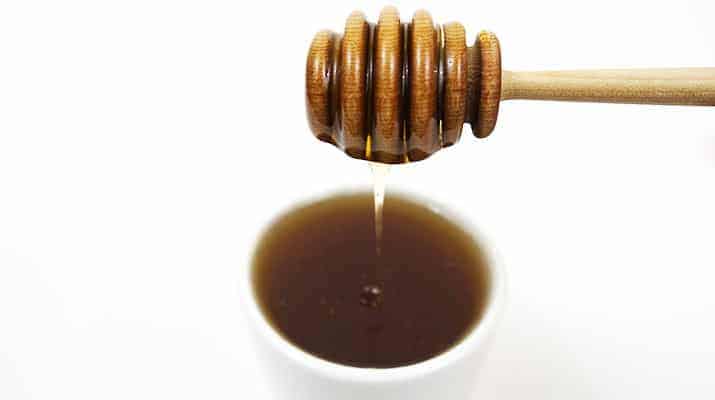 It honestly is that simple. Now that you have the proper technique, let's take a closer look at the best honey dippers on the market.
Please note, all measurements are approximate.
Comparison Chart
Wooden Honey Dippers
This is the Honey Dipper that your great grandmother would have used. Traditionally honey dippers were always made from wood and it is only more recently that stainless steel, silicone and plastic models have entered the market.
Nowdays, the main appeal of a wooden honey dipper is their price. We found that wooden honey dippers were the cheapest of the bunch. While they still work effectively they are not dishwasher safe making them better suited to those of you who permenantly store your dipper in your honey jar.
Fletchers' Mill – Best Wooden Honey Dipper
Length – 6 Inches
I am happy to say that the number-one wooden Honey Dipper is made right here in Maine, USA from New England hardwoods.
The large head and deep groves picked up a large amount of honey without trapping air bubbles underneath. The honey drizzle was constant and the thin yet sturdy handle made twirling the honey dipper very simple.
Overall we were hugely impressed with the workmanship for the price. Highly recommended and it put most of the other wooden honey dippers we tested to shame.
Eddingtons Italian Olive Wood Honey Dipper
Length – 6 inches
Eddingtons was another strong performer. Made in Albania, the Olive Wood has an eye-catching grain. The handle was thicker than our top pick yet still easy to twist.
Wooden Honey Dipper Runner-ups
The only thing that let this honey dipper down was the grooves in the head which had a habit of trapping pockets of air in thicker honeys and syrups.
Comparison Chart
Core bamboo Honey Dipper – Another strong contender for best wooden honey dipper, this time constructed entirely from sustainable bamboo. Sturdy yet light, the larger groves held honey without bubbles. However, the price was comparable to some of the stainless steel honey dippers we tested. 7 inches in length.
Naturally Med Olive Wood Honey Drizzler – While it claimed to be made form honey wood, the handle appeared to be made from a different wood to the head, possibly pine. The handle doesn't run inside the core of the head, instead the head is glued flat to the handle, even more worryingly the glue dissolved in water. 6 inches in length
Harold Imports Honey Bee Dipper – Cheap and nasty. Don't be lured in by the cute bee on the end, the light-weight wood is splintered where the grooves have been cut out of the head. We noticed small wood bits floating in our honey after use. After several washes the honey bee fell of the handle. 7 inches in length, until the bee falls off.
Stainless Steel honey Dippers
By and large we were impressed with the performance of all the stainless steel honey dippers that we tested. Not only were they well made and durable, but also dishwasher safe.
Cusinox – Simple and effective
Length 6 inches
An all stainless steel design was incredibly easy to wash. Through it through a dishwasher cycle and forget.
The coiled spring like head of the honey dipper was surprisingly effective at scooping up a large amount of honey. Because there is no solid section in the middle of the head there is more room for honey.
Twisting the handle kept the honey in place until testers were ready to release it. We only wish that Cusinox did not use such a large decorative disc on the end, it made twisting the handle a little more difficult than was otherwise necessary.
The whisk-like design made the honey dipper perfect for stirring tea. One of our testers found a second use for this honey dipper, stirring baby formula in baby bottles.
Rosle Honey Spoon – Longest Honey Dipper
Length 9.5 inches
If you have a deep honey pot then you will know just how that a short honey dipper is just going to leave you with a sticky hand. Fortunately Rosle have remedied this problem and made what may very well be the longest honey dipper in existence.
The stainless steel design is incredibly sturdy and dishwasher safe.
Despite the unusual shaped head, the dipper was more than capable of scooping up a generous amount of honey and holding it in place until testers were ready to drizzle. Just below the head is a jar rest that allows you to lean the honey dipper against your jar without it slipping.
At the end of a handle is a loop so that you can hang the honey dipper on a peg board. While the hanger may be situationally useful, testers found it unusual dragging against the palm of the hand when twirling the handle.
Alessi Acacia – Most elegant honey dipper
Length 6 inches
Who ever told you kitchen gadgets can't be art has never laid their eyes on an Alessi product. A gorgeous honeycomb sphere design sit's on top of a thin yet nicely weighted handle. The entire honey dipper is finished in a mirror-polished stainless steel.
But Alessi is a rare product where form meets function. The spherical design was more than capable of gripping a generous amount of honey. Twirling the handle kept the honey in place until we were ready to release it. The drizzle was even and easy to control. Highly recommended.
As you might have guessed, the design does not come cheap The Alessi Acacia is the most expensive honey dipper we tested. However, if you enjoy the finer things in life and want a unique product that is going to attract comments from family and friends then you simply can't go past this honey dipper. Makes a great gift.
Stainless Steel Honey Dipper Runner-ups
The following stainless steel honey dippers fell short in one way or another.
iGenietti Honey Dipper– Don't be fooled by the simple design and cheap price, the iGenietti just doesn't work. The empty space on the head of the honey dipper meant that honey would not stay put, it would freely fall as soon as you lifted the dipper from the honey. The curved handle made twisting the honey dipper impossible. It was also the shortest of the stainless steel honey dippers we tested. The dipper performed particularly poorly on runny honey. Length – 5.5 Inches.
Silicone Honey Dippers
Interestingly, besides a few generic Chinese honey dippers, no manufacturer chose to make their honey dipper completely out of silicone. Instead the honey dippers featured a silicone head paired with a wood or stainless steel handle.
Silicone has a bad habit of attracting dust if left in your utensil drawer, but this can easily be removed with a quick wash under running water. This characteristic does make silicone honey dippers better suited for permanently remaining in your honey jar.
Out of all the Silicone honey dippers there is only one we can recommend:
Norpro – Best Silicone Honey Dipper
Length – 6 inches
The Norpro performed exceptionally well on thick, locally produced honey. If you buy direct from the beekeeper then you will be particularly appreciative of how well the wide groves hold the gooey mixture. Testers found the head also worked well on store-bought honey too.
The handle is made from a solid stainless steel giving the honey dipper a nice weight. When dropped in honey, the dipper will sink under it's own weight and will not rise.
We will mention that this honey dipper is not suitable to be stored in thin glass jaws, the ball on the end of the handle can chip the glass if left to fall. This only applies to delicate decorative honey jars, the handle was fine for mason jars.
Silicone Honey Dipper Runner-ups
Le Creuset Silicone Honey Dipper – While we loved the design, the Le Creuset honey dipper was only capable of gripping a small portion of honey, not even enough to sweeten a tea. The problem came from the grooves which would trap air, resulting in less overall honey. The wood handle, while ergonomic, meant that the honey dipper could only be hand washed. But worst of all was the silicone head, it sits loose on the handle and can be pulled off with little effort. For the price we simply cannot justify this honey dipper. 6 inches long.
RSVP Endurance Silicone – The short handle was just over 5.5 inches long and a little awkward to hold. The spiraled grooves did not appear to hold honey as well as the vertical groves found on other honey dippers.
Plastic Honey Dippers
Given that we live in a world where everything is made of plastic, we were surprised to find that plastic honey dippers were relatively uncommon.
Plastic honey dippers were very easy to clean, light weight and brightly colored. The bright colors made the honey dippers stand out in a drawer filled to the brim with kitchen utensils.
Dr Oetker – Best Plastic Honey Dipper
Length – 6.5 inches.
Made in Germany, this plastic honey dipper has been manufactured by Dr Oetker for many, many years.
We were impressed with the performance. The handle flared end of the handle made it easy to twist between the fore-finger and thumb. Honey evenly dribbled from the grooves and was very easy to control.
Despite being light-weight the plastic felt durable. While the honey dipper isn't dishwasher safe, it is easy to clean in warm running water.
The only concern we had was that the product does not state whether or not it is BPA free, which may make it unsuitable to be permanently left in the honey jar.
Jarware Honey Dipper – Situationally Useful
This honey dipper will either be useful or useless to you. And it all depends on how you buy and store your honey. The concept is so clever that we simply had to include it in our honey dipper guide.
So what's the fuss about? Jarware have essentially created a honey dipper attached to a lid that is the perfect size for 16oz mason jars with a regular mouth. Simply attach the canning ring that comes with the jar and the lid will lock right into place.
If you buy local organic honey in mason jars then this is a novel solution to keeping a honey dipper on hand for when you need it.
We did find that the top of the lid is a little on the short side, making spinning the honey wand trickier than it needs to be. Performance wise the Jarware dipper head was just as good as the Dr Oetker honey dipper above.
Best of all the plastic is BPA free and dishwasher safe.
Buyer's Guide
Types of Honey Dippers
Honey dippers, commonly called honey wands or honey sticks, come in different types. They are made of different materials ranging from wood to glass. Some species of wood that are used to make wooden honey dippers include:
Maple
Beech
Olive
Bamboo
Walnut
Besides wooden dippers, you'll also find the following honey dippers:
Stainless steel dippers
Silicone dippers
Ceramic dippers
Silver-plated dippers
Plastic dippers
Glass dippers
There are various brands and models of honey dippers, all made using any of the materials stated above.
Size of Honey Dippers
Honey dippers come in three major sizes: big, small, and medium. Small honey dippers are typically 3 or 4 inches long. Medium dippers typically measure 6 inches, while large dippers are about 8 inches long. Most honey dippers are of medium size. Medium and large-sized honey sticks have long handles, suitable for ladling the right amount of honey from a big jar. Their sizes are quite comfortable for daily use. Small honey dippers are also easy and comfortable to use. They are the perfect size for your 2-ounce party favors.
Design of Honey Dippers
The key difference between a spoon and a honey stick is in the design. Honey sticks have distinct lateral grooves and a bulbous or cone-like head. The honey dipper keeps the honey trapped when you collect honey from a jar as long as you rotate the wand horizontally. This design stops your honey from dripping and making a mess, even when you walk around with your honey dipper.
Price of Honey Dippers
The price of honey dippers varies and depends. The price may depend on the size, color, brand, and material used. The price of small honey sticks may range between $2 and $4. You can find a medium-sized honey dipper between $2 and $12. Large-sized ones have a price range between $10 and $30.
FAQs
Why do Honey Dippers Have Grooves
Many may wonder why honey dippers are necessary and why they can't just use spoons. Honey dippers are designed to keep your honey from blobbing. The lateral grooves they have help with this. These grooves allow the honey to be pulled in while the dipper is rotated and kept horizontal. The grooves also add to the honey stick's surface area, storing more honey on the stick. Once you keep the dipper spinning, the honey stays on. When you're ready to drizzle some honey in your tea or food, you only have to tilt the honey stick vertically and watch the perfect stream of honey.
Is a Glass or Wooden Honey Dipper Better?
The material traditionally used for honey dippers is wood. Although many materials are currently used to make honey dippers, wooden dippers are still the most common. They are preferred by many for a few reasons. Some like how well their color goes with the golden-brown shades of honey. Others prefer wooden dippers because they won't chip a teacup. However, wooden dippers are not dishwasher-safe.
On the other hand, glass dippers not only look elegant, but they are also quite easy to clean. The downside to using them is they can be broken easily. So, if you have children or are clumsy, you may not want to go for a glass honey dipper.
Is the Honey Dipper Better than the Bubble Wand?
It might be impossible to know if honey dippers are better than bubble wands since, unlike honey dippers, bubble wands aren't used for honey. The only place bubble wands are used for honey is in the Roblox game Bee Swarm Simulator. Game players hatch bees for their pollen and use them to make honey.