Emjoi has created a wide range of rollers to help you effectively remove calluses, corns and other patches on cracked dried and cracked skin with ease.
But which roller is right for your skin?
To answer this question we assembled a team of testers with a dried cracked skin who were looking for relief. So we set them to work testing the various rollers available to see which worked best. And I got to watch the whole thing. From examining the results to getting coated in skin dust; sometimes I hate my job.
Emjoi Micro Pedi Standard Rollers
The standard roller is what comes in the box of your brand new Micro-Pedi. The standard roller is available in four different grades of coarseness, each more aggressive than the last.
All standard replacement rollers come with a protective snap on cover to prevent the roller from scratching surfaces it comes into contact with.
Micro-Pedi Coarse Roller
The least coarse foot roller available.
The only reason you would purchase this roller is if you found the standard roller in your Micro-Pedi too coarse and is causing you noticeable discomfort.
In use we found that the Coarse Roller failed to remove all but the lightest build ups of dead skin. The Coarse Roller just doesn't remove skin in a timely manner.
If you have particularly soft or sensitive skin then maybe you will find some value in this roller. But if you are looking for a roller that will remove tougher skin build ups then I recommend you look at the coarser options available below.
While this roller is still commonly available in the UK it is becoming increasingly difficult to find on retailers shelves in the United States.
Micro Pedi Extra Coarse Roller
The extra coarse roller comes standard on most models of Emjoi Micro-PedI and there is good reason for this, the extra coarse roller is a good all-rounder. Coarse enough to effectively remove all but stubborn calluses it should be your starting point before deciding to use a more coarse option.
During testing we found that the Extra Coarse roller could remove most calluses it came across. However, when it came to thicker patches of dry skin it took too long and testers found that they were pressing too hard that the roller would stop spinning.
The Extra Coarse roller will be just fine for most of you but for those of you who identify as having tough skin will want to start with the next roller…
Micro-Pedi Super Coarse Roller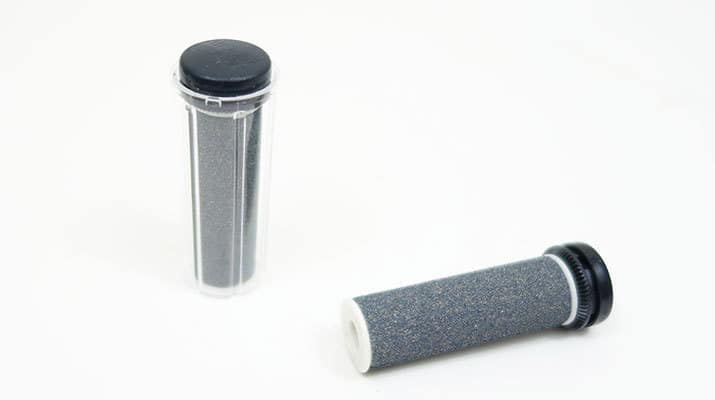 Emjoi must think that men have tougher calluses than women. The Super-Coarse roller comes standard on the Micro-Pedi MAN, a callus remover marketed at, you guessed it, men.
In reality the Super Coarse roller should be your first choice if you have thick difficult to remove calluses regardless of whether you are man or woman.
You will be able to identify the Super Coarse roller by it's blue and gold specked color.
Testers with rough skin remarked that while the Super Coarse was just marginally more aggressive than the Extra Coarse, it performed remarkably better on tougher calluses.
Some testers found that while the Super Coarse roller worked well on the calluses, it was too abrasive on the surrounding skin, leaving it red and swollen after use.
Only a few testers reported that they could go any coarser. Surprisingly, the testers who felt this way all worked jobs where they were on their feet all day. A nurse, hairdresser, chef and retail worker were just a few of the professions we came across that had extra stubborn calluses.
Micro Pedi Xtreme Coarse Roller
This is the coarsest roller that Emjoi has to offer. It doesn't get any more abrasive than this.
If you have thick callused heals that make your manicurist cringe then this roller is for you. While we had testers who said the previous rollers just were not coarse enough, not one repeated this remark about the Xtreme Coarse.
The Xtreme Coarse roller stays true to it's name, it is extremely aggressive. So much so that those of you with softer skin may find it unbearable. Testers with sensitive skin complained of a burning sensation after use.
While the Xtreme Coarse roller efficiently removes even the most stubborn of calluses, it left behind jagged skin. Fortunately we were able to use a less coarse roller to help smooth up the mess left behind.
Emjoi Micro-Pedi Flex Rollers
The newest type of roller released from Micro-Pedi. The coarse surface sits off the drum of the roller with padding behind it, allowing it to flex a slightly when pressed.
The theory is that the flexible surface allows you to press down harder on calluses while being more gentle on the surrounding skin.
However, during a trial where we blindfolded our testers, the testers were unable to identify which roller was the flexible one and which was the standard roller.
It would appear that the rollers just don't flex enough to achieve what they promise. Unfortunately you can't have it both ways, the roller can be extra coarse or gentle but not both.
Annoyingly, the Micro-Pedi Flex replacement rollers do not come with a protective cover.
Considering the Flex rollers cost more than the standard rollers and offer little to no noticeable difference in terms of performance, we do not recommend them.
Micro-Pedi Extra Coarse Flex Roller
Identical to the standard Extra Coarse roller except that it flexes. Not recommended.
Micro-Pedi Xtreme Coarse Flex Roller
Identical to the standard Xtreme Coarse roller except it flexes. Not recommended.
Micro Pedi Elbow Exfoliation Roller
Today I learned there are people who exfoliate their elbows and knees. While I am not judging you if you do this, I do have to ask is it really necessary? Please let me know in the comments, I am genuinely interested.
While tracking down people with rough elbows was the easy part, I could not find anyone who actually exfoliated their elbows or knees with a Micro-Pedi. So I do have to wonder if this is a solution to a problem that doesn't really exist.
Regardless, I am here to talk to you about the performance of these rollers.
The Elbow exfoliation roller is much gentler then the feet rollers. After convincing one tester to try the standard coarse roller, the most gentle roller that Emjoi makes on his feet it immediately became obvious why this roller exists.
The foot rollers will tear other areas of your body to shreds. The elbow exfoliation roller is much gentler than the aggressive foot rollers and effectively removed the dried skin from elbows and knees.
You can also use the elbow exfoliation rollers on your feet as a finishing file. Once you have used a coarse roller to remove the excess skin you can use the elbow roller to go over the area, smoothing it out.
Micro-Pedi Precision Kit
These cone shaped rollers have been designed to help smooth away the skin from between the toes, an area that the standard Micro-Pedi roller just cant reach.
The kit comes with three precision rollers and a silver roller holder. The precision rollers slide into the roller holder. The roller holder sits inside your Micro-Pedi just like a regular roller.
So the precision roller sits out at right a right angle to your Micro-Pedi like so:
Because Micro-Pedi's come in different shapes and sizes, the precision roller can be somewhat difficult to control, particularly on the fatter handled Micro-Pedi's such as the "Nano" or "Man" models.
The precision roller is the exact same coarseness as the blue Extra Coarse roller. We found it was more than coarse enough to smooth down calluses and rough skin between the toes.
When it came down to use the precision kit was not for everyone. The size of the cone is large enough that those of you with smaller feet will have difficulty reaching right between your toes.
Then there is the durability. If you press down to hard you risk snapping the stem that keeps the precision roller locked in the micro holder. If this happens it is virtually impossible to fish the stem out.
During testing we found that the precision rollers wore much quicker than the regular shaped roller.
While the precision roller is far from perfect, it is basically the only solution available to smoothing down the skin between your toes with a Micro-Pedi.
How to know if your Micro-Pedi roller is right for you
So with all the different rollers to chose from it can be tricky to find the right one for you. Your best bet is to use the roller that came with your Micro-Pedi. If that works, then great, you do not need to purchase a more aggressive roller.
But if notice the following…
You are pressing too hard to the point where the roller slows down or stops.
You find yourself unable to remove your calluses in a timely manner.
The Pedi-Perfect is running hot.
Then it will likely be beneficial to experiment with a more coarse roller. Unfotunately choosing the right roller may take some trial and error before you find the best one for your skin.
Generic Micro Pedi Rollers
A common complaint about Micro-Pedi replacement rollers is that they are overpriced. And we agree. You need to be aware that if you purchase a Micro-Pedi you are essentially locking yourself in to buying replacement rollers on an ongoing basis and doing so isn't cheap.
If you have been shopping for replacement rollers for your Micro-Pedi then you will likely have come across a variety of affordable generic brands in your search.
In our testing we found that the generic replacement rollers wore out much quicker than the genuine Emjoi rollers. In one instance the generic rollers would not even fit in our Micro-Pedi.
Now we are all about recommending the best product at the most affordable price. And while generic rollers may promise that cheap solution, we are unable to recommend them based on performance.
Related read: Best Electric Callus Remover